Rotary International

President:

Ian HS Riseley

Rotary District 5160 Governor:

Gary Vilhauer

Durham Rotary President:
Larry Bradley

_____________

Rowel Editor: Phil Price
Rowel Publisher: Jen Liu




December 5, 2017


  

The  2018 Crab Feed will be held on Saturday, February 10th, 2018

<![if !supportMisalignedColumns]>
<![endif]>
2017 Calendar for Durham Rotary

D
e
c
e
m
b
e
r

1
2
3
4
5
Christmas Party
6
7
8
9
10
11
12
Meeting
TBA
13
4
15
16
17
18
19
Meeting
Audrey Taylor from Chabin Concepts on Butte Sports Complex Project
(Ravi Saip)
20
21
22
23
24
25
26
No Meeting
27
28
29
30
31

J
a
n
u
a
r
y

1
2
No Meeting
3
4
5
6
7
8
9
Meeting
TBA
10
11
12
13
14
15
16
No Meeting
17
18
19
20
21
22
23
Meeting
TBA
24
25
26
27
28
29
30
Meeting
TBA
31
| | | |
| --- | --- | --- |
| | President Larry Bradley opened the Christmas Party meeting and asked Steve Heithecker to lead the pledge, which he did.  Jim Patterson then gave the invocation. | |
FUTURE MEETINGS:
December 11th: Meeting at Mountain Mike's.
December 19th: Ravi Saip presents Audrey Taylor from Chabin Concepts on Butte Sports Complex Project
December 26th:  No Meeting
January 2nd:  No Meeting
January 9th:
January 16th:  No Meeting.  MLK Day
January 23rd:
January 30th:
February 6th: 
February 10th:  Crab Feed
February 13th:  No Meeting
February 20th:  No Meeting
February 27th:
______________________
If a Tuesday is not listed above, there is no meeting that week.
VISITING ROTARIANS & GUESTS
President Larry pointed to members to introduce specific guests by name, thereby naming all the guest so that there were no introductions by members.  There were many wives and guests with wives.  Too many to name here.
NEXT MEETING
NOTE CHANGE IN MEETING DAY AND PLACE.
Monday Night Football at Mountain Mike's.
NOTE:  This meeting is on next Monday night, not Tuesday.
REPORTS AND ANNOUNCEMENTS
The District 5160 Conference will be at the Hyatt Regency in Incline Village May 4-6, 2018.  It is not too early to make your reservations.  They are going fast.  In fact, early registrations ends October 31st.  Check the District website to register for the conference, including meals, and to get hotel rooms at a special price, while the last.

<![if !supportLineBreakNewLine]>
<![endif]>
Membership
Bring guests, who you think you can interest in becoming a member, to meetings. 
In the meantime please invite Durham business owners and/or managers to one of our meeting.  
RECOGNITIONS
None tonight.
Program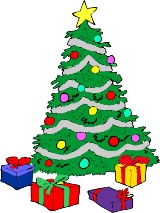 It was the Club Christmas Party, presented by Mike Wacker.
We had a delicious dinner.  And there was dessert.
The Durham High School Jazz Band again played for us.  This time with their new band director, Mathew Plummer.
Following that Larry Bradley led us in singing Christmas Carols.
Then came Ravi's Gift Exchange with a lot of stealing of gifts and fun.
The rest is in the pictures below:
Must Be Present to Win Drawing:
None tonight
From Rotary International:
Rotary helps wildfire victims
Rotary clubs and the Rotary Foundation are helping victims of deadly wildfires in California.
More than 220,000 acres have been scorched and more than 40 people have been confirmed dead.
"The magnitude of the devastation that is occurring in the North Bay and wine county is vast and far-reaching. The recovery and rebuild is going to be a long process but we are confident that we can lead the way in bringing these communities back. Rotarians know how to get things done and won't stop until we reach the finish line," said Bob Rogers, Rotary 5130 District Governor.
The Rotary Foundation has set up a special fund to collect donations. You can contribute here to The Northern California Fire Recovery Fund #615.
If you have questions about how you can help, contact relief@rotary.org.
Rotary clubs and districts are also collecting funds for disaster relief in their communities. Rotary International and The Rotary Foundation do not administer these funds but provide this information as a service. More information can be found on their websites.