Rotary International

President:

Ian HS Riseley

Rotary District 5160 Governor:

Gary Vilhauer

Durham Rotary President:
Larry Bradley

_____________

Rowel Editor: Phil Price
Rowel Publisher: Jen Liu

June 26, 2018

  

The  2018 Harvest Festival will be held on September 16, 2018

<![if !supportMisalignedColumns]>
<![endif]>
2018 Calendar for Durham Rotary

J
u
n
e

1
2
3
4
5
Meeting
Patrick Ranch Tour
6
7
8
9
10
11
12
Meeting
Bill Curry on managing subcontracts for space programs
13
14
15
16
17
18
19
Meeting
Experience as an USMC Pilot
(John Moss)
20
21
22
23
24
25
26
Meeting
Demotion
(Ravi Saip)
27
28
29
30

J
u
l
y

1
2
3
No Meeting
4
5
6
7
8
9
10
Meeting
Reports from Camp Royal Students 2018
11
12
13
14
15
16
17
Meeting
David Little, Editor of Chico ER
18
19
20
21
22
23
24
Meeting
TBA
25
26
27
28
29
30
31
Meeting
TBA



President Larry Bradley opened the demotion meeting at the BCCC.  He asked Steve Plume to lead the pledge, which he did.  Larry led us in singing "God Bless America". Jim Patterson then gave the invocation in which he took some liberties regarding President Larry.  That cost him $5.

 
FUTURE MEETINGS:
July 3rd:  No Meeting
July 10th:  The Camp Royal students will be here.
July 17th:  David Little, Editor of the Chico ER
July 24th:
July 31st:
August 7th:
August 14th:
August 21st:
August 28th:
______________________
If a Tuesday is not listed above, there is no meeting that week.
Larry reported that we received $311.25 from the County for assisting with the elections.
He also auctioned off a $35 gift card from Nash's that had gotten lost in the shuffle at the Crab Feed.  Roy got it for $50.
VISITING ROTARIANS & GUESTS
Ravi Saip introduced his wife, Mary.
Jim Kirks introduced Nancy Patterson and Sharon Robertson.
Glenn Pulliam introduced his wife, Bonnie and Nancy Bradley, Jackie Goss and Sue Jessen. 
John Moss introduced his wife Kendra.
Mike Wacker introduced his wife, Jan and Cindy Price and Janet Ellis.
NEXT MEETING
There will be no meeting on July 3rd.  The next meeting will be July 10th.  We will have the Camp Royal students here to tell us about their experiences.
REPORTS AND ANNOUNCEMENTS
Membership
Bring guests, who you think you can interest in becoming a member, to meetings.  In the meantime please invite Durham business owners and/or managers to one of our meeting.
District Awards and Installation Dinner
Dear District 5160 Rotarians,

Two important things to cover this morning -- read on.

1 -- SAVE THE DATE! Mark your calendars for Saturday, July 14. It's our annual Awards and Installation Dinner, and this one has fun written all over it. Details and registration link will be coming out shortly, but here's a clue: Start to think like a movie star.

2 -- Staying in Woodland the evening of July 14? There are many reasons why you might:
the PDG breakfast Sunday morning

the Grant Review Panel meeting on Sunday

you live far away and want to attend the Awards dinner

you plan to have a REALLY good time at the dinner
For all of the above, you might want to take advantage of a very short-term hotel discount we've secured. Here's the scoop

Holiday Inn Express Hotel & Suites
2070 Freeway Dr
Woodland, CA 95776

Hotels.com lists it for $159. This rate is $145. The thing is, it's ONLY AVAILABLE THROUGH JUNE 15.

Stay tuned for more info -

Tina Akins, District 5160
Dear fellow Rotarians,

Whether you are a club president, a district governor, or a Rotary committee chair, we all spend May and June busily preparing for the upcoming transition in July. Soon, another Rotary year will come to a close. But it's not an ending. In so many ways, it's just the beginning.

There is only so much we can do in the 365 days we're given. Our Foundation was founded a century ago and exists today because we Rotarians have a long-term vision — our commitment to end polio and our dedication to sustainable global grants projects are two examples. While we may not see the result of a Rotary project during a given Rotary year, the seeds we plant today will be harvested as rich fruit in the years to come.

This year, we are on target to achieve our goal of raising $360 million, thanks to the generous support of you and so many of your fellow Rotarians and friends. Just think for a moment — of that money, how much will become drops of polio vaccine next year, and whose lives will those drops save? How much of it will be used to fund literacy initiatives? How many people's lives will be transformed by a global grant water project in two, four, or 10 years?

The Rotary Foundation's impact grows with each passing year, and so does its reputation. This year, for the 10th consecutive year, Charity Navigator — the leading independent charity evaluator in the U.S. — gave the Foundation a four-star rating. Our Foundation ranks among the top 1 percent of charities it evaluates.

The Rotary Foundation remains on a strong footing, and it will continue to grow and prosper, because we Rotarians work together so well, annually handing off leadership to our trusted friends. As I pass the torch to Past RI President Ron D. Burton, who will bring his unique talents and leadership to the position of trustee chair in July, I know that our future is in good hands.

Rotary leaders also regularly pass the torch to the next generation, which is eager for the chance to serve. Today, more than 200,000 Rotaractors are dedicated to making a difference on the issues that matter to our world and their communities. Show them how The Rotary Foundation can help them achieve their dreams of Doing Good in the World.

I encourage you to invite the Rotaractors you know to get involved with The Rotary Foundation by applying for a scholarship or peace fellowship, partnering with a Rotary club on a global grant project, joining a Rotary club while they are still members of Rotaract, or giving a gift to support Rotary's humanitarian work around the world. By taking the action of engaging younger professionals today, we are preparing Rotary's future leaders to leave their own legacy.

Our Rotary Foundation brought so much good into this world in its first century. And with your support, it will continue to do so well into the future. If you haven't made a contribution yet this Rotary year, I hope you will consider doing so today. And as you go forth, continue to support the Foundation and let others know about its work. You may never hear it with your own ears, but somewhere, future generations will thank you for it.

Paul A. Netzel
Chair, The Rotary Foundation 2017-18
RECOGNITIONS
None tonight
Must Be Present to Win Drawing:
None tonight
PROGRAM
The program was the demotion led by past president Ravi Saip.  It is in the photos below:
Larry first recounted the money raised and spent by Durham Rotary during his year.  He noted that every member was a Bell-Ringer.  He recognized particularly the Double Bell-Ringers and the Triple Bell-Ringers contributing toward the money we could spend.
He presented numerous members bags of almonds as a thank you for assistance to the club this year.
Ravi then followed with a little roasting.  Following that he called on Jim Patterson and Glenn Pulliam to do some more roasting, which they did.
Things then got serious with the presentation of the Past President's Plaque to Larry.
Then President Larry Bradley turned the gavel over to incoming President Dave Jessen.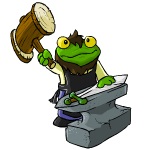 And Dave closed the meeting:
From Rotary International:
Canada welcomes the 2018 Rotary Convention for four days of inspiring speakers and opportunities to connect with club members from around the world
By Arnold R. Grahl Photos by Alyce Henson
Canada's largest city, Toronto, is the site of Rotary's biggest event of the year, the annual Rotary International Convention. More than 24,000 registered participants from 175 countries and geographic regions have come together to renew friendships, find inspiration, and immerse themselves in the many cultures for which Toronto is famous.
<![if !supportLists]>1.
<![endif]>
RI President Ian H.S. Riseley opens the 109th Rotary International Convention.
<![if !supportLists]>2.
<![endif]>
Her Royal Highness The Princess Royal, Princess Anne, addresses the 2018 Rotary International Convention on 24 June in Toronto.
<![if !supportLists]>3. <![endif]>
In welcoming Rotarians to Toronto, Chief Stacey Laforme, Leader of the Mississaugas of the New Credit First Nation, noted how Canada is known as a country and Rotary is known as an international organization that supports those around the world in need. "Honestly from my heart, I tell you the Indigenous Peoples of this land and the rest of the world are in need. Stand with us, work with us, and walk with us."
The convention's opening ceremony took place Sunday at the Air Canada Centre. Chief R. Stacey Laforme, of the Mississaugas of the New Credit First Nation, welcomed Rotary to Toronto, while RI President Ian H.S. Riseley reflected on the diversity that both Rotary and Toronto value and celebrate. This is the fifth time the convention has been in Toronto, second only to Chicago in number hosted.
"One has only to spend a few hours strolling about the city to see why Rotarians have returned to Toronto again and again," said Riseley. "Not only is it clean, beautiful, welcoming, and amazingly diverse, it is full of some of the nicest people you'll find anywhere. Canadian niceness is legendary, and the reputation is well deserved."
Her Royal Highness The Princess Royal, Princess Anne, made a special appearance during the opening ceremony. The second child and only daughter of Queen Elizabeth II and Prince Philip, the Duke of Edinburgh, the Princess Royal is president of Save the Children UK, an international nongovernmental organization that focuses on health, education, protection, and disaster relief for children. A strong advocate for children's rights, she travels the world in support of Save the Children and other charities and causes.
Over the next four days, attendees will hear from former first lady of the United States Laura Bush, an advocate for literacy, health care, and human rights, and Helen Clark, former prime minister of New Zealand and former administrator of the United Nations Development Programme. Bush is the wife of George W. Bush, president from 2001 to 2009.
Other speakers include Dr. Tedros Adhanom Ghebreyesus, director-general of the World Health Organization; Ann Gloag, founder of the Gloag Foundation and Freedom From Fistula Foundation; and Caryl Stern, president and CEO of UNICEF USA.
Monday through Wednesday, members will have the chance to attend breakout sessions where they will find inspiration for new service projects, polish their leadership expertise, and learn skills for building stronger clubs.
Fellowship is the biggest part of any Rotary Convention, and the week wouldn't be complete without Host Organization Committee events welcoming attendees to Toronto, showing them the city, and giving members a chance to get together and socialize.
Follow all our convention coverage as the action happens. Find photos, videos, live blog posts, speeches, and more. Share your convention experience on social media with #Rotary18. If you can't attend the convention, or are there but miss something, you can also watch a livestream of the general sessions and key breakout sessions, either as they happen or when you have time later.
Highlights
House of Friendship: The House of Friendship in the Metro Toronto Convention Centre began with a grand opening on Saturday morning. The bustling hall is where the Rotary world comes together to share ideas, advice, and project successes.
Laura Bush, former first lady of the United States: The wife of former President George W. Bush will speak on her work as an advocate for literacy, health care, and human rights.
Rotaract Panel Presentation: RI Director-elect Olayinka "Yinka" Babalola leads a panel of Rotaractors from Australia, Pakistan, and Uganda in discussing the future of the program during Monday's general session.
Rotaract 50th Anniversary Luncheon: Rotarians and members of Rotaract celebrate the 50th anniversary of the program from 13:00 to 14:30 Monday in Halls F and G of the Metro Toronto Convention Centre.
ROTARYFEST: The Host Organization Committee is putting on a celebration of Canadian heritage complete with food, music, and a fireworks display at the Canadian National Exhibition Centre from 16:00 to 22:00 Tuesday.
Food scene: If you are looking for an innovative place to eat, check out Toronto's Kensington Market neighborhood, an eclectic mix of restaurants and cafes, reportedly one of the favorite food spots of Meghan Markle, Duchess of Sussex.
The Rotary International web site is: www.rotary.org
District 5160 is: www.rotary5160.org
The Durham Rotary Club site is:  www.durhamrotary.org
The Rowel Editor may be contacted at: pbprice1784@gmail.com
The deadline for the Rowel 6:30 am on Wednesdays.
The Editor's photographs published in the Rowel are available, upon request, in their original file size.  Those published were substantially reduced in file size.