Rotary International

President:

Barry Rassin

Rotary District 5160 Governor:

Jon Dwyer

Durham Rotary President:


David Jessen

_____________

Rowel Editor: Phil Price
Rowel Publisher: Jen Liu

December 4, 2018

  

The  2019 Crab Feed will be held on Saturday, January 19, 2019

<![if !supportMisalignedColumns]>
<![endif]>
2018 Calendar for Durham Rotary

N
o
v
e
m
b
e
r

1
Foundation Dinner in Paradise (in place of November 6th meeting)
2
3
4
5
6
No Meeting
7
8
9
10
11
12
13
No Meeting
14
15
16
17
18
19
20
Emergency Meeting on Camp Fire support
21
22
23
24
25
26
27
Meeting
Club Assembly
28
29
30

D
e
c
e
m
b
e
r

1
2
3
4
Meeting
Christmas Party
(Mike Wacker)
5
6
7
8
9
10
11
Meeting
Crab Feed Planning
(Chris Hatch)
12
13
14
15
16
17
19
Meeting
TBA
(Roy Ellis)
19
20
21
22
23
24
25
No Meeting
26
27
28
29
30
31
| | |
| --- | --- |
| | President Dave Jessen, opened the meeting at the BCCC.  He asked Brian Gray, President of the Paradise Club, to lead the pledge, which he did.  He then asked Larry Bradley to lead us in song.   He led use in singing "God Bless America".  Jim Patterson then gave the invocation. |
| | | | |
| --- | --- | --- | --- |
| | | | |
FUTURE MEETINGS:
December 11th:   Chris Hatch
on Crab Feed Preparation
December 18th:   Roy Ellis
December 25th:  No Meeting
January 1st:  No Meeting
January 8th:  Mike Crump
January 15th:  Crab Feed Preparation.  Steve Heithecker.
January 19th:  Crab Feed
January 22nd.  No Meeting
January 29th:  Eric Hoiland
______________________
If a Tuesday is not listed above, there is no meeting that week.
VISITING ROTARIANS & GUESTS
President Dave introduced the members and guests at his table and then asked Glenn Pulliam, Steve Plume, Jim Patterson and Mike Wacker to introduce the members and guests at their tables.  There were many wives and guests.  Too many to name here.
Student Store
In an effort to get school supplies to the students affected by the Camp Fire, a "store" was set up in the Chico Mall to serve the Paradise Intermediate and High School students. The students will be attending classes in the mall until other arrangements can be made. Students will be able to come into the "store" and get school supplies, free of charge.
Chico Rotary staffed the store on the last Monday and Durham Rotarians staffed the store on Tuesday Dec 4th. There were 2 shifts, 8-11 and 11-2.  Glenn Pulliam recruited members to staff the store on Tuesday.  See part of the crew below:
Mike Wacker also presented an update on the Student Supplies Project.  At the above store more than 850 backpacks were delivered to students.  Over 1200 backpacks were delivered to elementary students.  Jen and I found out that we could not get an adobe acrobat copy of this updated report in the Rowel, so I am going to ask Jen to email it to all members when he notifies them of the publication of this Rowel.
NEXT MEETING
The next meeting will be on December 11th.  Chris Hatch will present the program.
RECOGNITIONS
None tonight.
Membership
Bring guests, who you think you can interest in becoming a member, to meetings.  In the meantime please invite Durham business owners and/or managers to one of our meeting.
Must Be Present to Win Drawing:
None tonight.
REPORTS AND ANNOUNCEMENTS
PROGRAM SCHEDULE.
Glenn Pulliam in now the program chairperson.  At the last meeting he passed around a program schedule for the balance of the year.  It was also emailed to members.  Check it for the date you have the program.  If you have a problem with the date, contact Glenn.
4-Way Fest
PROGRAM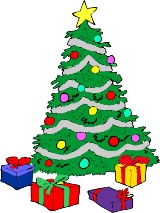 It was the Club Christmas Party presented by Mike Wacker..
We had a delicious dinner.  And there was dessert.
The Durham High School Jazz Band again played for us, even though they had only been back to school for 2 days.  They did fine.
Following that Larry Bradley led us in singing Christmas Carols.
Then came Jan Ellis' Gift Exchange with a lot of stealing of gifts and fun.
The rest is in the pictures below:
The Durham High School Jazz Band
Larry leading us in Christmas Songs.
Jan Ellis' Gift Exchange.
The Rotary International web site is: www.rotary.org
District 5160 is: www.rotary5160.org
The Durham Rotary Club site is:  www.durhamrotary.org
The Rowel Editor may be contacted at: pbprice1784@gmail.com
The deadline for the Rowel 6:30 am on Wednesdays.
The Editor's photographs published in the Rowel are available, upon request, in their original file size.  Those published were substantially reduced in file size.