Durham Rotary Club. P.O. Box 383 Durham Ca. 95938

Rotary International

President:

Barry Rassin

Rotary District 5160 Governor:

Jon Dwyer

Durham Rotary President:


David Jessen

_____________

Rowel Editor: Phil Price
Rowel Publisher: Jen Liu

June 11, 2019

  

The  2019 Harvest Festival will be held on Sunday, September 15, 2019

<![if !supportMisalignedColumns]>
<![endif]>
2019 Calendar for Durham Rotary

J
u
n
e

1
2
3

4
Meeting
Robert Kevmar
(Daryl Polk)

5
6
7
8
9
10
11
Meeting
A tour of Patrick Ranch
(Steven Heithecker)
12
13
14
15
16
17
18
Meeging
TBA
(Steve Plume)
19
20
21
22
23
24
25
Demotion Party
26
27
28
29
30

J
u
l
y

1
2
No Meeting due to 4th of July
3
4
5
6
7
8

9
Meeting
TBA
(Mike Wacker)

10
11
12
13
14
15
16
No Meeting
17
18
19
20
21
22
23
Meeting


Thad Walker, Butte County esource Conservation District: Butte County Trail Plan


(Mike Crump)
24
25
26
27
28
29
30
Meeting


John Moss – Flying Off Air Craft Carrier


(Roy Ellis)
31
| | |
| --- | --- |
| | President Dave Jessen opened the meeting at the Patrick Ranch.  Acoustics were bad in the barn we met in but I think he asked Glenn Pulliam to lead us in the pledge and Steve Heithecker to lead us in song.   Since he was sitting next to me I know that he asked Jim Patterson give the invocation. |
FUTURE MEETINGS:
June 18th:  Steve Plume

June 25th:  Demotion Party

July 2nd:  No Meeting

July 9th:  Program TBA

-

Mike Wacker

July 16th:   N0 Meeting

July 23rd: 

Mike Crump

presents

Thad Walker, Butte County Resource Conservation District: Butte County Trail Plan

July 30th: 

Roy Ellis presents

John Moss – Flying Off Air Craft Carrier

August 6th:   Program TBA

August 13th:  No Meeting

August 20th:   Program TBA

August 27th: Program TBA

____________________

If a Tuesday is not listed above, there is no meeting that week.
President Dave thanked Kristen Cargile and her husband, Dennis for assisting in preparing the dinner we had. Jessica Thrope, our newest member contributed a bowl of potato salad although she was absent from the meeting.
Upon a vote of the members Jessica Thrope was approved as a member of Durham Rotary.  She was sponsored by Kristen Cargile.
Jen Liu reported that the planning for the Harvest Festival is underway.  He circulated a list of sponsors and the member responsible to contact the sponsor.  Now is the time to contact those sponsors.  He also reported contacting the crafters.  3 have already signed up.
Glenn Pulliam reported that help is needed to move the Paradise Intermediate School out of the OSH building this Thursday morning.  It starts at 8:00 am.
.
VISITING ROTARIANS & GUESTS
President Dave introduced his wife, Susanne.
Kristen Cargile introduced her husband, Dennis.
Bruce Norlie introduced his wife, Peggy.
John Moss introduced his wife, Kendra.
Steve Heithecker introduce Susan Donahue, a director of the Far West Heritage Association (the owner and operator of the Patrick Ranch, who was our program for the night.  He also introduced Dave a ranch hand who would drive the tractor pulling the trailer with the members around the Ranch.
NEXT MEETING
I don't know what it is but Steve Plume will present it at the BCCC.
REPORTS AND ANNOUNCEMENTS
New Member Announcement
Kristen Cargyle has proposed Jessica Thrope as a new member.  Kristen will be her sponsor
From Jim Kirks, our Rotary Foundation Director:
There has been a great response to The Rotary Foundation during the 2018/19 year. It is still possible to receive a $100 for $100 match
for your contributions up until June 30, 2019.
The Rotary magazine shows how your contributions help Rotary Clubsaround the world and in the USA do things to improve the lives of peopleevery day. It is your donations that make this possible.
Thank you. Jim Kirks, Rotary Foundation Director
Annual Awards and Installation Dinner
Time to party!!! Mark your calendars for July 13, 2019 - it's going to be fun!
Join us at the annual awards and installation dinner, marking the end of this year and the beginning of next. This year, it's AKA the District 5160 Year-End Tailgate Party. Everyone has a favorite sports team, right? Tina and I are inviting all Rotarians of District 5160 to come dressed in your favorite team's gear (prizes for best-dressed, biggest fans of course!).
The party will be at Woodland Community Center, 2001 East Street, Woodland, from 5:00 - 9:00pm. Come share in this fun, year-end celebration, and "serious" Installation of our 2019-20 Club Presidents. There may even be some sports-related competition.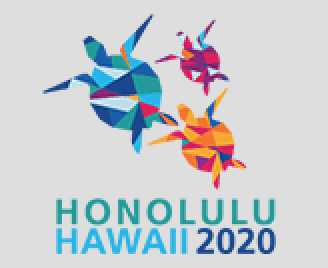 Aloha!
It is NOT too early to be planning to attend the Rotary International Convention in Honolulu Hawaii June 6-10, 2020! And, this is not something that can wait. While in Hamburg, Rotarians will get to register for next year's Convention in Honolulu, and now you can too.
Registration for the Honolulu 2020 Rotary Convention will open on June 1, 2019.
Rotarians everywhere can take advantage of this lowest rate at www.riconvention.org. To assist Rotarians in registering, attached is a description of how to complete registration for Honolulu 2020. Please note that you must have a My Rotary account to register, and that is easy to do with the instructions attached to this message. I've also attached a chart that shows pricing. This is the lowest, folks! I think I've attached enough info to help you to take advantage of this.
Tina

Tina Akins
District Governor 2019-2020
Rotary International District 5160
925-260-8462
Tina@Rotary5160.org
<![if !supportLineBreakNewLine]>
<![endif]>
Membership
Bring guests, who you think you can interest in becoming a member, to meetings.  In the meantime please invite Durham business owners and/or managers to one of our meeting.
­­­­­­­­­­­­­­­­­________________________________________________________________
RECOGNITIONS
None tonight.
PROGRAM
Steve Heithecker, President of the Far West Heritage Association, introduce long time member of the Board of Directors, Susan Donahue.  As we toured the Ranch on a trailer pulled by a tractor driven by Dave, Susan described each of the buildings and facilities on the Ranch with its history.  Dave also filled in occasionally. 
Before we began the tour, Susan was presented with a check for $1,000 to the Far West Heritage Association from Durham Rotary.
Must Be Present to Win Drawing:
None tonight.
­­­­­­­­­­­­­­­­­________________________________________________________________
From Rotary International
Rotary's 110th annual convention concludes; one of Hamburg's most multicultural, non-profit gatherings
<![if !supportLists]>· <![endif]>More than 26,000 registrants representing 3,605 Rotary clubs in 170 countries
<![if !supportLists]>· <![endif]>Rotary commits US$102 million this year to end polio
<![if !supportLists]>· <![endif]>Hamburg gains €24 million in tourism revenue
<![if !supportLists]>· <![endif]>First German nominated to serve as Rotary International president in 2020
<![if !supportLists]>· <![endif]>mytaxi donates €70,000 to German Rotary club projects
<![if !supportLists]>· <![endif]>35 speeches and 98 breakout sessions
<![if !supportLists]>· <![endif]>334 exhibit booths of which 200 featured Rotary humanitarian projects
HAMBURG, Germany (5 June 2019): As Rotary closes its 110th annual international meeting at the Hamburg Messe und Congress on 5 June, Rotary members will bring home indelible memories and new insights on how to improve lives and bring positive, lasting change to communities around the world.
In his keynote address, Rotary International President Barry Rassin said, "Service to others is an integral part of our mission, whether it's through the plans and actions of individual clubs, Rotary's six areas of focus, or the transformational support of The Rotary Foundation. And the service that most defines us and our global mission is the ongoing goal to rid the world of polio."
Alongside partners in the Global Polio Eradication Initiative, Rotary has achieved a 99.9 percent reduction in polio cases since spearheading the initiative more than 30 years ago. Since then, Rotary members have contributed $1.9 billion and countless volunteer hours to protect more than 2.5 billion children in 122 countries from polio. Today, just two countries continue to report cases of wild poliovirus, Afghanistan and Pakistan. Rotary is committed to raising $50 million per year, with every dollar to be matched with two additional dollars through a matching agreement with the Bill & Melinda Gates Foundation. Including the matching funds, Rotary is committing another US$102 million this year to fund polio eradication efforts in 13 countries.
Michel Zaffran, director of polio eradication for the World Health Organization (WHO) presented on the progress and global significance of the initiative. "We're truly on the cusp of eradicating a disease for only the second time in human history," said Zaffran. "Our responsibility is nothing less than to ensure that no child anywhere will ever again be paralyzed by the poliovirus."
German Rotary members have contributed more than US$31 million to end polio, and on 1 July 2020, Holger Knaack, owner of the real estate company Knaack KG, will oversee this effort as the first German to serve as Rotary International president. Knaack of Ratzeburg said, "I'm honored to have the confidence and support of Rotary's 1.2 million members," said Knaack. "As president, I plan to highlight the best Rotary has to offer where people of all backgrounds can see themselves reflected in our service and impact."
During the four-day event, attendees heard from an array of world class speakers, including:
<![if !supportLists]>· <![endif]>Dr. Peter Tschentscher, First Mayor of Hamburg
<![if !supportLists]>· <![endif]>Dr. Gerd Müller, Federal Minister for Economic Cooperation and Development
<![if !supportLists]>· <![endif]>On the closing day, Eckart Diepenhorst, CEO of mytaxi presented a check for €70,000, representing 100 percent of the proceeds from all rides to and from the Hamburg Messe from 31 May through 5 June to support the following German Rotary club projects:
<![if !supportLists]>o <![endif]>A bee pasture project developed by the Rotary Club of Ahrensburg to help the dwindling bee and butterfly populations;
<![if !supportLists]>o <![endif]>Emotions Training for Autism, developed by Rotaract Germany, to support those with autism spectrum disorder thrive; and
<![if !supportLists]>o <![endif]>HANWASH, a collaborative initiative by local Rotary members, The Rotary Foundation and DINEPA to bring clean water to Haiti.
About Rotary: Rotary brings together a global network of volunteer leaders dedicated to tackling the world's most pressing humanitarian challenges. Rotary connects 1.2 million members of more than 35,000 Rotary clubs in over 200 countries and geographical areas. Their work improves lives at both the local and international levels, from those in need in their own communities to working toward a polio-free world. Germany's 56,000 members and 1,100 clubs are taking action to make the world a better place at home and abroad.
The Rotary International web site is: www.rotary.org
District 5160 is: www.rotary5160.org
The Durham Rotary Club site is:  www.durhamrotary.org
The Rowel Editor may be contacted at: pbprice1784@gmail.com
The deadline for the Rowel 6:30 am on Wednesdays.
The Editor's photographs published in the Rowel are available, upon request, in their original file size.  Those published were substantially reduced in file size.