Durham Rotary Club. P.O. Box 383 Durham Ca. 95938

Rotary International

President:

Barry Rassin

Rotary District 5160 Governor:

Jon Dwyer

Durham Rotary President:


David Jessen

_____________

Rowel Editor: Phil Price
Rowel Publisher: Jen Liu

June 25, 2019

  

The  2019 Harvest Festival will be held on Sunday, September 15, 2019

<![if !supportMisalignedColumns]>
<![endif]>
2019 Calendar for Durham Rotary

J
u
n
e

1
2
3

4
Meeting
Robert Kevmar
(Daryl Polk)

5
6
7
8
9
10
11
Meeting
A tour of Patrick Ranch
(Steven Heithecker)
12
13
14
15
16
17
18
Meeging
Issues on Boeing 737 Max 8
(Steve Plume)
19
20
21
22
23
24
25
Demotion Party
26
27
28
29
30

J
u
l
y

1
2
No Meeting due to 4th of July
3
4
5
6
7
8

9
Meeting
TBA
(Mike Wacker)

10
11
12
13
14
15
16
No Meeting
17
18
19
20
21
22
23
Meeting


Thad Walker, Butte County esource Conservation District: Butte County Trail Plan


(Mike Crump)
24
25
26
27
28
29
30
Meeting


John Moss – Flying Off Air Craft Carrier


(Roy Ellis)
31
President Dave Jessen again opened the meeting at the BCCC with a gong.

 

It seems that he had lost the Bell.

 

He asked Jim Patterson to lead us in the pledge, which Jim did.

 

He then asked Larry Bradley to lead us in a song.

 

Larry led us in singing God Bless America.

 

President Dave then, asked Jim Patterson to give the invocation, which he did.
FUTURE MEETINGS:
July 2nd:  No Meeting
July 9th:  Mike Wacker will present the Camp Venture students.
July 16th:   No Meeting
July 23rd:  Mike Crump
July 30th:   Roy Ellis will present John Moss on "Marine Corps Aviation"
August 6th:   Program TBA
August 13th:  No Meeting
August 20th:   Program TBA
August 27th: Program TBA
____________________
If a Tuesday is not listed above, there is no meeting that week.
VISITING ROTARIANS & GUESTS
President Dave introduced his wife, Sue, and his son, daughter in law and granddaughter. 
(Yes, Steve, I cropped you out of the photo)
Jim Patterson introduced Mark Brusie from the Chico Club and Cindy Price, your editor's wife.
Steve Heithecker introduced Nora, a friend of Jim Kirk's and new member, Jessica Thrope and her husband.
Jen Liu introduced his wife, Pam.
NEXT MEETING
There will be no meeting next week.
The next meeting will be on July 9th at the BCCC.  Mike Wacker will present the Camp Venture students.
REPORTS AND ANNOUNCEMENTS
From Jim Kirks, our Rotary Foundation Director:
There has been a great response to The Rotary Foundation during
the 2018/19 year. It is still possible to receive a $100 for $100 match
for your contributions up until June 30, 2019.
The Rotary magazine shows how your contributions help Rotary Clubs around the world and in the USA do things to improve the lives of people every day. It is your donations that make this possible.
Thank you. Jim Kirks, Rotary Foundation Director
Also from Jim Kirks:
I received an update on KR this evening from his wife Sharon. The doctors did an endoscopy and found that KR has ulcerations in his esophagus. Ken did well today when he received a mechanical soft diet like mashed potatoes and pureed meat instead of the the liquid diet that KR has been on.
KR is now getting out of bed and sitting in a chair to eat his meals. He is gaining strength. Sharon learned that there are no beds at California Park Rehabilitation Hospital. KR will move at noon on Friday, June 28th, from Enloe Room 3323A to a private room at Windsor Chico Care on Manzanita Place. Sharon worked for many at this rehabilitation facility where KR will receive the physical therapy that will help him return to the comfort of their home.
KR welcomes visitors, cards and messages
Annual Awards and Installation Dinner
Time to party!!! Mark your calendars for July 13, 2019 - it's going to be fun!
Join us at the annual awards and installation dinner, marking the end of this year and the beginning of next. This year, it's AKA the District 5160 Year-End Tailgate Party. Everyone has a favorite sports team, right? Tina and I are inviting all Rotarians of District 5160 to come dressed in your favorite team's gear (prizes for best-dressed, biggest fans of course!).
The party will be at Woodland Community Center, 2001 East Street, Woodland, from 5:00 - 9:00pm. Come share in this fun, year-end celebration, and "serious" Installation of our 2019-20 Club Presidents. There may even be some sports-related competition.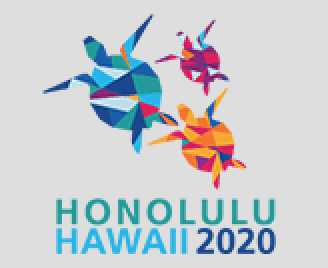 Aloha!
It is NOT too early to be planning to attend the Rotary International Convention in Honolulu Hawaii June 6-10, 2020! And, this is not something that can wait. While in Hamburg, Rotarians will get to register for next year's Convention in Honolulu, and now you can too.
Registration for the Honolulu 2020 Rotary Convention will open on June 1, 2019.
Rotarians everywhere can take advantage of this lowest rate at www.riconvention.org. To assist Rotarians in registering, attached is a description of how to complete registration for Honolulu 2020. Please note that you must have a My Rotary account to register, and that is easy to do with the instructions attached to this message. I've also attached a chart that shows pricing. This is the lowest, folks! I think I've attached enough info to help you to take advantage of this.
Tina

Tina Akins
District Governor 2019-2020
Rotary International District 5160
925-260-8462
Tina@Rotary5160.org
<![if !supportLineBreakNewLine]>
<![endif]>
Membership
Bring guests, who you think you can interest in becoming a member, to meetings.  In the meantime please invite Durham business owners and/or managers to one of our meeting.
­­­­­­­­­­­­­­­­­________________________________________________________________
RECOGNITIONS
Larry Bradley auctioned the Grinder.  Dave Jessen got it for a contribution of $70.
There were no recognitions tonight.
PROGRAM
Dave Jessen recounted the accomplishments during his term of office.  He noted that we had sent 5 students to Camp Royal and 2 to Camp Venture.  We donated $19,000 in scholarships to Durham High students.  Also $1,000 to Patrick Ranch and $2,500 to Safe and Sober Graduation at Durham High School.  We contributed $5,000 to the new Bar B Que at the Durham Park.  We donated a new dishwasher to the Durham Community Center.  We packaged meals for Rise Against Hunger.  We received $43,400 in contributions for the Camp Fire relief.  In addition through the efforts of Mike Wacker, his son, Rand Wacker and his daughter Renee Hutchings $105,000 was raised for Camp Fire victims.  Through the efforts of Jim Kirks $4,500 was donated to the Rotary International Foundation. 
Larry Bradley then took over the meeting.  He first returned the club Bell to President Dave with an unclear explanation as to how it had come into his possession. 
Larry noted that we had raised $19,000 at the Crab Feed, which we donated to the Paradise Ponderosa Elementary School.  We also raised $22,000 at the Harvest Festival. 
Larry then told a Dar Meyer joke about a muffle (which was so bad I won't repeat it here) and then proceeded to discuss Dave's year as president.  This was followed by comments from Jim Patterson, Ravi Saip, Steve Plume, Glenn Pulliam and Jen Liu.  There were complements for Sue Jessen noting the usually any response to emails to Dave came from her and that a lot of the success of his presidency was the result of her involvement.
Ravi presented a used spark plug to Dave apparently symbolic of Dave.
President Dave then thank several member for their help including Larry Bradley, Glenn Pulliam, Jen Liu, Steve Plume, Jim Patterson and the whole club.
Dave also noted that we had gained six new member and lost three for a net gain of 3.
Larry then thanked Dave for his service then turned the gavel and the Bell to Steve Heithecker our new president.
And we have a new president
Must Be Present to Win Drawing:
None tonight
­­­­­­­­­­­­­­­­­________________________________________________________________
Ten Years Ago in the Rowel
The program was Past President Daryl Polk conducting the demotion of President Glenn.  He had a number of photographs of world leaders showing that none wore shorts until the current president.  He then presented a Past President Plaque to Glenn and a pair of Rotary Shorts.  K. R. Robertson presented President Glenn with a Rotary T-Shirt to wear with the shorts.  At the conclusion President Glenn passed the Gavel and Bell to President Mike.  K. R also presented him with a Rotary T-Shirt.  The rest is in the following photograph.
From Rotary International
Rotary and ShelterBox celebrate the power of partnership
Evanston Ill., Rotary International announced on 3 June a three-year partnership renewal with its disaster relief project partner, ShelterBox. For almost 20 years, this unique humanitarian alliance has supported families with a place to call home after disaster.
Rotary is a global network whose members take action to make a lasting difference in their communities – and worldwide. ShelterBox provides emergency shelters and other essential items to support families who have lost their homes in disaster.
What began as a local connection with one Cornish Rotary Club has led to an international movement that's provided 140,000 ShelterBox family tents or 390,000 ShelterKits worldwide to date (a value of over £54 million).
First adopted as a millennium project by the Rotary Club of Helston-Lizard in 2000, the support of Rotary members and clubs around the world saw ShelterBox become Rotary's Project Partner in Disaster Relief in 2012. Since then, the partnership has helped transform ShelterBox into an internationally recognized disaster relief charity, supporting families with emergency shelter after disaster.
The partnership extends far beyond financial support. Around 1,000 Rotary members are involved in ShelterBox as volunteers, staff or response team members. And clubs worldwide offer valuable, practical assistance to help ShelterBox reach more families fleeing disaster or conflict.
This has recently included support for families in Malawi flooded from their homes by Cyclone Idai and communities in Lombok devastated by the 2018 earthquake and tsunami (quotes and details at the end of this release).
"ShelterBox has been Rotary's Project Partner in Disaster Relief since 2012, and we are excited to renew the partnership for another three years," says Rotary International General Secretary John Hewko.
"Through this project partnership, Rotary members around the globe can collaborate with ShelterBox to support communities in desperate need of emergency temporary shelter and vital supplies following natural disasters," adds Hewko. "Additionally, Rotary and ShelterBox will continue to expand cooperation efforts through preparedness training and stockpiles of prepositioned aide in disaster-prone regions."
Caroline White, interim Chief Executive at ShelterBox, said: "Whenever disaster strikes, Rotary is beside us. From the earliest planning stages to final evaluations, Rotary members help ShelterBox make community contacts, organize logistics, and reach disaster-affected families in remote areas who might otherwise go without.
This partnership has helped ShelterBox become who we are today. Our global network of 17 ShelterBox affiliates, who raise funds and awareness worldwide, evolved from Rotary relationships."
Rotary club presidents around the world have also commented:
Ace Robin, President of the Mataram Rotary Club, Indonesia, was caught up in the deadly earthquakes that hit Lombok in 2018. Her home survived, but many around her were destroyed. Through an agreement with the government-led response, Ace's club was central to bringing ShelterBox aid to Indonesia.
Thanks to their support, vulnerable members of the community received vital emergency shelter, including families with elderly relatives, pregnant women or new mothers.
Ace said: "Working with ShelterBox taught us a lot – they showed us how to build shelter and select families to help. It also gave us a chance to show what Rotary is to local people."
After floods triggered by Cyclone Idai left tens of thousands homeless in Malawi this March, Rotary members connected ShelterBox with communities in the Blantyre region, helping them understand local needs and culture. Members helped deliver emergency shelter to almost 2,000 families. And ShelterBox supported the Rotary Club of Limbe to join the wider disaster response, enabling the club to deliver food to communities whose entire crops had been destroyed by the floods.
Rotary Club of Limbe President Eric Chinkanda said: "It was a great experience to work with ShelterBox. We have not only walked a mile in reaching out to the many Malawians who faced hardship, but we restored confidence in the displaced people that all was not lost!"
James Kingston, Club President of the Rotary Club of Helston-Lizard, in Cornwall, said: "The members of Helston-Lizard Rotary are delighted that Rotary International continues to recognize ShelterBox.
I joined the club a few months before the Millennium Project began, and I'm so pleased we're still involved. It has been wonderful to see the charity grow into an internationally recognized, professional disaster relief organization."
<![if !supportLists]>· <![endif]>For further information or interviews from Rotary International, please contact chanele.williams@rotary.org or call +1847 866 3466
<![if !supportLists]>· <![endif]>For further information or interviews from ShelterBox, please contact phillybyrde@shelterbox.org or call +447384 110828.
<![if !supportLists]>· <![endif]>Short video of Response Team Member Yi Shun Lai explaining how Rotary helped in the response to Tropical Storm Usman: https://www.youtube.com/watch?v=8G2c7Da13M4
Facts and figures
<![if !supportLists]>· <![endif]>90% of ShelterBox responses assisted by Rotary
<![if !supportLists]>· <![endif]>1,000 Rotary members have roles in ShelterBox, in the UK and internationally
<![if !supportLists]>· <![endif]>£54m+ raised for ShelterBox by Rotary supporters since 2000
About Rotary International
Rotary brings together a global network of volunteer leaders dedicated to tackling the world's most pressing humanitarian challenges. Rotary connects 1.2 million members of more than 35,000 Rotary clubs in over 200 countries and geographical areas. Their work improves lives at both the local and international levels, from those in need in their own communities to working toward a polio-free world. See www.rotary.org
About ShelterBox
ShelterBox provides emergency shelter and other essential items to families who have lost their homes to disasters. See www.shelterbox.org
The Rotary International web site is: www.rotary.org
District 5160 is: www.rotary5160.org
The Durham Rotary Club site is:  www.durhamrotary.org
The Rowel Editor may be contacted at: pbprice1784@gmail.com
The deadline for the Rowel 6:30 am on Wednesdays.
The Editor's photographs published in the Rowel are available, upon request, in their original file size.  Those published were substantially reduced in file size.