Durham Rotary Club. P.O. Box 383 Durham Ca. 95938


Rotary International

President:

Mark Daniel Maloney

Rotary District 5160 Governor:

Tina Akins

Durham Rotary President:
Steve Heithecker
Club Secretary - Glenn Pulliam
Club Treasurer - Steve Plume
Club Program - Eric Hoiland

_____________

Rowel Editor: Phil Price
Rowel Publisher: Jen Liu

April 7, 2020

  

The  2020 Harvest Festival will be held on Sunday, September 20, 2020

<![if !supportMisalignedColumns]>
<![endif]>
2020 Calendar for Durham Rotary

A
p
r
i
l

1
2
3
4
5
6
7
ZOOM Meeting
8
9
10
11
12
13
14
Meeting Cancelled
15
16
17
18
19
20
21
ZOOM Meeting
Anna Johnson, Durham High School Technology Chair

on Chromebook Project
(Steve Heithecker)

22
23
24
25
CANCELLED
Rise Against Hunger Event at Durham High School
26
27
28
Meeting Cancelled
29
30

M
a
y

1
2
3
4
5
ZOOM Meeting
6
7
8
9
10
11
12
No Meeting
13
14
15
16
17
18
19
ZOOM Meeting
20
21
22
23
24
25
26
No Meeting
27
28
29
30
31
| | |
| --- | --- |
| | President Steven Heithecker arranged for us to have a ZOOM meeting tonight.  President Steve called the meeting to order after it was determined that we had everybody attending on ZOOM that were going to attend.  There were 9 members, including Steve.  They were Jen Liu, Glenn Pulliam, Larry Bradley, Ravi Saip, Phil Price, Eric Hoiland, Jim Patterson (sound only) and Roy Ellis.  He did not ask Larry to do a song nor did we have a flag salute.  |
FUTURE MEETINGS:
All meetings at BCCC are cancelled until further notice.  But there will be meetings on ZOOM as follows:
April 21st:   Anna Johnson, Durham High School Technology Chair
on Chromebooks Project
May 5th: 
TBA
May 19th:  TBA
June 2nd:
TBA
June 16th: TBA
June 30th:  Demotion
__________________
President Steve first showed a video entitled "What is Rotary".
President Steve noting that the purpose of the meeting was just checking in with members.  So he ask each member present to say a few words about how they were doing in isolation.
Larry Bradley reported that his son, who lives in San Ramon, has the virus.  He is in his eighth day.  His doctor told him that the 5th to 8th days were the worst.
Jen Liu had to cancel his planned trip to Mexico.  Actually Pam was already there and had to come home. 
I have cancelled my May trip to Mexico so I will be around to do the Rowel in May. 
Ravi is having problems getting approvals for using his planes for firefighting this year because cancellation of his pilots certification renewal sessions this year.  But his wife is doing fine running virtual parties, which she was already doing before the virus. 
Eric and his wife are keeping busy working at home. 
Jim Patterson and his wife are cleaning out the house.  But his granddaughter is disappointed about not getting to do to Camp Royal since her mother and 3 siblings have gone.  Other than that he is doing as little as possible all the time.  
Steve is also working at home. 
Glenn is doing well but his son, who is an ER doctor in Oregon, is concerned about virus cases growing in Oregon.
President Steve reported that our application for a District grant is under way.  It will be used to purchase 45 Chromebooks for the Durham High School.  They currently have only 300 but need 500, consequently their student cannot all study on line.  They are having to pick up packets at school.  The cost of Chromebooks and needed accessories will be about $13,000.
Larry Bradley reported that they are still working out how they will be awarding scholarships.  Probably each committee member will receive and review, on their own, the submissions by the students.  There will be no live interviews.  He also suggested that we should revise the amounts we give in scholarships.
NEXT MEETING
The next meeting will be held on ZOOM on April 21st.  President Steve will present Anna Johnson, Durham High School Technology Chair.
Until social distancing ends, meetings will be held every other Tuesday on ZOOM. 
About ZOOM, go on the web and look for WikiHow ZOOM.  It has the most succinct instructions on how to join a ZOOM meeting.  Basically there are two ways.  Down load ZOOM on your computer and after it is running put the meeting ID Steve has given you, in an email, in where asked for.  The other way is to click on the meeting link Steve has given you in the email.  There are more detailed instructions on the ZOOM website, but they spend most their time in setting up a ZOOM meeting, which you do not need to know.
ZZ
REPORTS AND ANNOUNCEMENTS
Rise Against Hunger Cancelled
Our packaging of meals for Rise Against Hunger scheduled for April 25th has been cancelled.
__________________________________________________________________________
Chico Rotary 100th Year Kickoff Event Canceled
The 100 year Kickoff Event dinner scheduled at the Chico Elks Lodge on April 14th has been canceled.  However, they expect to reschedule it at a later date.    
________________________________________________________________________
Patrick Ranch Fundraiser Canceled
The Patrick Ranch California Nut Festival will not be held on April 18th as originally scheduled.  It has been rescheduled, and will be held on September 26, 2020.  All event tickets already purchased will be honored at that time.
_________________________________________________________________________

Rotary International cancels 2020 international convention in Honolulu
Rotary International has canceled its 2020 international convention in Honolulu amid growing concerns surrounding the spread of COVID-19 around the world.
________________________________________________________________
District 5160 Events Cancelled
Camp Royal & Camp Venture Cancelled
Both Camp Royal and Camp Venture have been cancelled by the District.
The Redding Passport to Adventure District Conference, May 1-3, has been cancelled/postponed.
The District Governor Line is working hard to figure out what's next. When can we have a conference? How do we structure it to insure a wonderful experience? Stay tuned for details as we put the pieces of the puzzle together.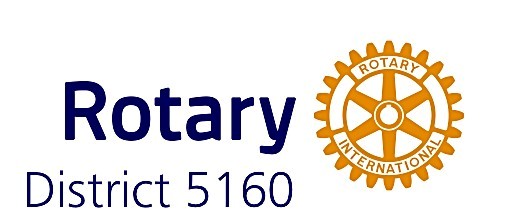 From the District Governor
To All Rotarians in District 5160 -
I have an exceptional and extraordinary request of you, and all members in our district, to join the fight against COVID19. What if there was a way to help, from the safety of our homes, and make a real difference?
Our district is one of two districts leading in an extraordinary new effort, and your immediate participation is critical to its success. This program will be announced via a press release today (CNN, NYT, and other major coverage), and will be adopted by Rotary Clubs across the nation in the next few days.
The background is this: Two weeks ago, Rotarians in a local club engaged Rotary International to recruit 1 million volunteers in two weeks to sign up with Volunteer Surge, a new program that allows us to train online, for free, to become a Telehealth Worker, or a Community Health Worker. These volunteers will provide basic assistance, and will reduce suffering and save lives, locally and across the nation. How? By helping our health care providers to focus more of their attention where it is most needed.

TIME IS CRITICAL.
Please click HERE to learn more and decide how you, your friends, and family can participate. And share this link with others on Facebook, email, and other social media.
The world is watching, and we, as Rotarians, people of action, are now truly defined by our actions in this crisis.

With appreciation and thanks,

Tina
Tina Akins
District Governor 2019-2020
Rotary International District 5160
925-260-8462
Tina@Rotary5160.org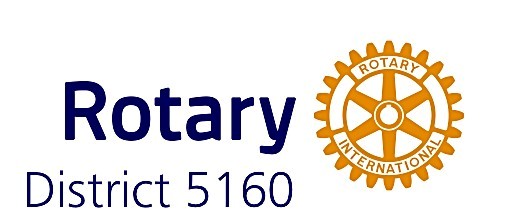 __________________________________________________________
RECOGNITIONS
There was some dispute between Eric Hoiland and Ravi Saip as to who was younger.  If I heard I right, Eric's wife thought Ravi was younger.  However he isn't.  He is 3 years older than Eric and so contributed $3.
The following all have birthday's in April:  Dave Jessen, Jessica Thorpe, Mike Wacker, Jon Moss, Mike Crump and President Steve.  But, except for Steve, none were present at the meeting.  Birthdays will be revisited at the next meeting.  Also, Daryle Polk has an anniversary in April, which will revisited next meeting.
Membership
When we have live meetings again, bring guests, who you think you can interest in becoming a member, to meetings.  Your dinner and your guest's dinner will be paid for by the Club.  In the meantime please invite Durham business owners and/or managers to one of our meetings.
_________________________________________________
Adjournment
President Steve concluded the meeting by reciting a poem by Pablo Neruda which he thought was appropriate with the stay at home order.
Keeping Quiet – Pablo Neruda
We hate silence however silence and keeping quiet have power.
Its like a spell that can foster parts of you that you thought were dead
"Now we will count to twelve and we will all keep still.
For once on the face of the earth, let's not speak in any language; let's stop for one second, and not move our arms so much.
It would be an exotic moment without rush, without engines; we would all be together in a sudden strangeness.
Fisherman in the cold sea would not harm whales and the man gathering salt would not look at his hurt hands.
Those who prepare green wars, wars with gas, wars with fire, victories with no survivors, would put on clean clothes and walk about with their brothers in the shade, doing nothing.
What I want should not be confused with total inactivity.
Life is what it is about; I want no truck with death.
If we were not so single-minded about keeping our lives moving, and for once could do nothing, perhaps a huge silence might interrupt this sadness of never understanding ourselves and of threatening ourselves with death.
Perhaps the earth can teach us as when everything seems dead and later proves to be alive.
Now I'll count up to twelve and you keep quiet and I will go."
Twenty Years Ago
INTRODUCTIONS:
Al Lotspeich, Romeo Morin, Steve Mulqueeny and Linda Landcaster introduce the visiting Rotarians.  They were Skip Daughterman, StevIe Gonsalves, Eugene Brita, Bill Kehoe and Frank Zylinski of the Chico Club. Phil Price was to introduce his table but there were no visitors so all of us paid $1.00 each.
INTERACT CLUB:
Also introduced were Tara and Erika of the Durham High School Interact Club.  Tara spoke briefly about current Interact Club activities.
RECOGNITIONS:                 
President Dave talked to a lot of members about their activities but only Linda Landcaster paid anything.  She was recognized for her birthday.  She elected to pay $10.00 rather than have anyone sing "Happy Birthday" to her.
Clint Goss reported that he spent a week working at Honey Lake and another few days at Jonesville snowmobiling with Tom Vanella.  The contended that they held a Rotary meeting but were missing a bell.  That happens around here often enough.
PROGRAM:
Bruce couldn't be here so Bill Dempsey filled in with a video about backyard wild animals.  He also talked about the animals in his backyard.  The program was very entertaining.
From Rotary International
Rotary clubs help fight the COVID-19 pandemic
Members use ingenuity, flexibility to help people affected by coronavirus and to stay connected
As the COVID-19 pandemic spreads uncertainty and hardship around the world, Rotary members and participants are innovating, caring for those affected, and showing that even at a distance, there are ways to help.
As people of action, Rotary members are engaged in their communities — gathering for projects and offering help to those in need. But in many areas, life is changing drastically. Health experts are urging people to maintain distance from others or even isolate themselves in order to slow the spread of the highly contagious virus.
Fighting disease is one of Rotary's main causes, so members already support efforts to promote proper hand washing techniques, teach people other ways to stay healthy, and supply training and vital medical equipment to health care providers. Now they're helping health authorities communicate lifesaving information about COVID-19 and donating protective gear and other supplies to clinics and hospitals that are under strain because of the pandemic.
These are just some of the ways that members are supporting their communities right now:
In Italy, one of the countries that has been affected most, clubs in District 2080 are raising funds to purchase ventilators and protective gear for overstretched hospitals. And when the worst of the outbreak was raging in China, the district's clubs raised more than $21,000 for protective masks to prevent spread of the disease there.
Clubs in District 2041, also in Italy, raised funds online to buy protective gear for health workers who will care for COVID-19 patients at a 400-bed hospital being built at Milan's fairgrounds.
In Hong Kong, Rotary clubs have raised funds, packed medical supplies, and visited public housing to distribute masks and sanitizers.
Rotary clubs in Sri Lanka installed thermometers in airport bathrooms and produced posters to raise awareness about the coronavirus for schools across the country.
The Rotary Club of Karachi

Darakhshan

, Sind, Pakistan, distributed thousands of masks to people in Karachi.
Clubs in District 3700 (Korea) have donated $155,000 to the Red Cross.
Rotary clubs in Nigeria's

Akwa

Ibom state conducted a campaign to raise awareness about the threat of the virus. Members shared information about the illness and how to keep safe at two schools and distributed materials about using good hygiene to stay healthy.
The Rotary club of Metro Bethesda, Maryland, USA, is contacting neighbors who live alone and are quarantined. Volunteers are asked to contact at least five of those people each week to ask how they are and if they need anything. Members are also leaving flowers on their doorsteps.
Using technology to address the crisis
Although clubs and districts are canceling or postponing their in-person meetings and events, they are still finding ways to keep up their fellowship, reimagine their service efforts and respond to the pandemic:
The Rotary E-Club of

Fenice

del

Tronto

invited the public to its 11 March online meeting to raise awareness about the coronavirus. A virologist spoke about the virus, how it spreads, and how to keep safe.
The Rotary Club of Singapore hosted a webinar in which an epidemiologist and an infectious disease expert addressed questions and concerns about the coronavirus and the pandemic.
The Rotary Club of East Jefferson County, Washington, USA, used crowdsourcing to create an online listing of area grocery stores, pharmacies, and restaurants that offer home delivery.
Rotary members in Hereford, England, created a Facebook group for Rotary members and others to use to link people who need support with people or organizations that can help. More than 6,900 people have joined the group since it was started 14 March.
Two days before its annual fundraiser, the Rotary Club of Schaumburg-Hoffman Estates, Illinois, USA, moved the event to Facebook. It auctioned more than 100 items and raised more than $100,000, about the same amount as in previous years. Food set to feed 350 people at the event was delivered to those in need.
The Rotary E-Club of Silicon Valley, California, USA, held an online meeting for members of other clubs to share advice on using digital tools to remain connected. The club recorded the meeting so members could watch it later and share it with others.
Rotary clubs in Zone 34 (Georgia and Florida, USA, and the Caribbean) created a guide to help members stay connected online. The Rotary E-Club of the Caribbean 7020 is helping clubs in the zone arrange online meetings. Read more.
What is your club doing to confront this crisis? Use #
RotaryResponds

to share your story on social media. Or share what you're doing on Rotary Voices.

_________________________________________________________

The Rotary International web site is: www.rotary.org

District 5160 is: www.rotary5160.org

The Durham Rotary Club site is: www.durhamrotary.org

The Rowel Editor may be contacted at: pbprice1784@gmail.com

The deadline for the Rowel 6:30 am on Wednesdays.

The Editor's photographs published in the Rowel are available, upon request, in their original file size. Those published were substantially reduced in file size.