Rotary International Theme 2021-2022

THE ROWEL

Rotary Club of Durham


Rotary International President:

Holger Knaack

Rotary District 5160 Governor:

Mark Roberts

Durham Rotary President: Jen Liu

_____________

Editor: Phil Price

Publisher:  Jen Liu

August 31, 2021

  

The  2021 Harvest Festival scheduled for Sunday, September 19, 2021.

<![if !supportMisalignedColumns]>
<![endif]>
2021 Calendar for Durham Rotary

A
u
g
u
s
t

1
2
3
No Meeting
4
5
6
7
8
9
10
Meeting
TBA
Board Meeting at 5:00 PM
11
12
13
14
15
16
17
No Meeting
18
19
20
21
22
23
24
Meeting
TBA
25
26
27
28
29
30
31
Meeting
Dr. Andrew Mill on Vaccination
(Bruce Norlie)

S
e
p
t
e
m
b
e
r

1
2
3
4
5
6
7
No Meeting
8
9
10
11
12
13
14
Meeting at Durham Park - Harvest Festival Planning
Board Meeting at 5:00 PM
15
16
17
18
Harvest Festival Setup at Durham Park
19
Harvest Festival at Durham Park
20
21
No Meeting
22
23
24
25
26
27
28
Meeting
Harvest Festival Debrief
29
30
| | |
| --- | --- |
| | According to the calendar it was another live meeting at the Butte Creek Country Club.  Except when I arrived, with my wife who wanted to hear Dr. Miller, the door was locked. |
FUTURE MEETINGS:
All meetings will be at the Butte Creek Country Club, at 6:00 pm, unless otherwise noted.
Sept 7th Zoom Meeting-  Harvest Festival Discussion
Sept 14th: @Durham Park – Harvest Festival Planning.  Board Meeting at 5:00pm
Sept 18th .  Harvest Festival Set up.
<![if !supportLineBreakNewLine]>
<![endif]>
Sept 19th. Harvest Festival
Sept 28th:  Harvest Festival Debrief.
So, President Eric Hoiland did not call the meeting to order.  He did not ask anyone to lead the pledge and he did not ask Jim Patterson to give an invocation.  And no one introduced any guests, including mine.
I learned that they had closed the Butte Creek Country Club to aerate the greens.
When I got home, I found the following email from President Eric, that had arrived at 1:45 pm.
"I was just informed by BCCC that the course and club are closed today for maintenance, so we can't hold our meeting at that location tonight. We have Dr. Andrew Miller scheduled to present tonight, and with the smoke and heat I don't think we should move the meeting outdoors to Durham Park.
So, we'll cancel tonight's Rotary meeting. Maybe we can reschedule Dr Andrew Miller for our regular meeting in late September or October.
Our next scheduled Rotary meeting is Tuesday, September 14th at Durham Park. We will have a Board Meeting from 5-6 prior to that meeting."
 I look at my email in the morning.  One arriving in the afternoon is too late.
Next Club & Board Meetings
As noted above, the next regular meeting will be on Tuesday, September 14th at the Durham Park, beginning at 6:00 pm.  I have no information about the provision of food, but I hope there will be some.  The subject of the meeting will be Harvest Festival Planning.  Note that the draft work schedule is still attached.  Bring your comments to the meeting.
Prior to the meeting, at 5:00 pm, there will be a Board meeting.
Zoom Meeting Next Week
This morning I received another email from President Eric scheduling a Zoom Meeting next Tuesday, September 7th, at 6:00 pm (see, I do see emails if they arrive in the early morning).  This is to have the discussion of the Harvest Festival, that was intended to be last night.  See below:
Eric Hoiland is inviting you to a scheduled Zoom meeting.
Topic: Harvest Festival Planning
Time: Sep 7, 2021 06:00 PM Pacific Time (US and Canada)
Join from PC, Mac, Linux, iOS or Android: https://cccconfer.zoom.us/j/99520977193
Or iPhone one-tap (US Toll): +16699006833,99520977193# or +13462487799,99520977193#
Or Telephone:
Dial:
+1 669 900 6833 (US Toll)
+1 346 248 7799 (US Toll)
+1 253 215 8782 (US Toll)
+1 646 876 9923 (US Toll)
+1 301 715 8592 (US Toll)
+1 312 626 6799 (US Toll)
Meeting ID: 995 2097 7193
International numbers available: https://cccconfer.zoom.us/u/aevyNzfU7
Or an H.323/SIP room system:
H.323: 162.255.37.11 (US West) or 162.255.36.11 (US East)
Meeting ID: 995 2097 7193
SIP: 99520977193@zoomcrc.com
Or Skype for Business (Lync):
SIP:99520977193@lync.zoom.us
Jim Kirks Memorial Service
The memorial service for Jim Kirks scheduled for August 28th in the Faith Lutheran Church in Chico, has been canceled due to Covid in the church.  It will be rescheduled. 
The Rotary Foundation Donations
When every Rotarian gives every year, no challenge is too great for us to make a difference. The minimum gift to The Rotary Foundation is $25.00. An annual $100.00 gift is a sustaining member. Once your donations accumulate to $1,000 you become a Paul Harris Fellow.
It is possible to learn more about The Rotary Foundation on the Rotary web site.
Your gift can be made online or by sending Steve Plume a check made out to The Rotary Foundation to Durham Rotary, P.O. Box 283, Durham, California 95958.
From District Governor Kathy Suvia
Can you believe it's September already? I've been hitting the road and visiting clubs. What a pleasure it is to meet so many of our district members who are embracing our international theme of "Serve to Change Lives." Visiting all 72 clubs is one of the primary responsibilities of a DG, and I look forward to meeting your club and hearing about all you are doing in your community.

Another responsibility of the DG is to host a District Conference, and I couldn't be more excited about our Back to the Future themed event this October. Our conference planning team has been working for almost two years to give you a weekend full of fun, fellowship and inspiration. Bill and I, along with the members of Mt. Shasta Rotary, will be there to greet you!
<![if !vml]>
<![endif]>
.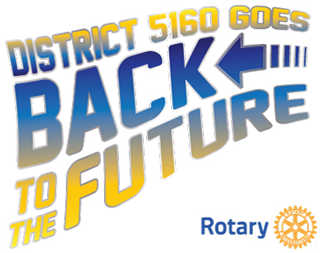 RotaryAnnes & RotaryAndys—have we got a deal for you! Tired of the same old same old? Need a break? Well, have we got the antidote for you…how'd you like to get away from the hum-drum and enjoy a good old time with some good old friends? And, while you're at it, brag about the amazing things your Rotary Club is doing? See just how far eyebrows can raise as you tell your amazing stories and they tell you theirs.

Visit with your fellow Rotarians and spouses at the famed Olympic Valley Resort at Squaw Creek, October 29-31. Even if they're skeptical about a few of your brags (and you of theirs,) you'll learn a lot and be inspired to do even more. And what better place to meet than Lake Tahoe late October? There simply is none.

Please click on this link to go "Back to the Future!" https://conference.rotary5160.org/
Polio Plus Update
We did it! Rotarians throughout the world gave $50,027,000 to end polio! And, the Gates Foundation added $100 million to this total. Our District contributed $270,000! $80,000 can be attributed to those who joined the PolioPlus Society. Without your generosity we would have missed the end goal for contributions by our District, the Gates Foundation and others.

We're holding at TWO cases of wild polio virus in the world. (There were 97 during this same time period last year.) But, the threat is still there! Should we stop or slow down our efforts to end polio now? NO! 385,000. That's the number of new babies that are born each day according to the UN. That adds up to 140 million each year. And, each one needs to be vaccinated against polio and other communicable diseases.

Here's what you can do to help: Join the PolioPlus Society! As little as $10 a month (recurring) will place you in the program. Please email Mike Crosby at MikePolioPlus@District5160.org to join today.
<![if !supportLineBreakNewLine]>
<![endif]>
__________________________________________________________________________________
The Rotary International web site is: www.rotary.org
District 5160 is: www.rotary5160.org
The Durham Rotary Club site is: www.durhamrotary.org
The Rowel Editor may be contacted at: pbprice1784@gmail.com
The deadline for the Rowel 6:30 am on Wednesdays.
The Editor's photographs published in the Rowel are available, upon request, in their original file size. Those published were substantially reduced in file size.
---
                                                                                          Draft 8/31/21
Durham Harvest Festival Work Assignments    
Sunday, September 19, 2021
Everybody shows up by 6:00 a.m. and everybody stays for clean up.
6:00 – 7       Food Court Set-Up        ALL AVAILABLE MEMBERS         
                    Phil Price– Signage
6:00 – 7       Table Set-up                   ALL AVAILABLE MEMBERS
Chair – Phil Price                    
                    Jessica Thorpe                        
                    Sue Jessen                                 Dave Jessen
6:00 - ?        Car Show - Bruce Norlie
                    2 Exchange Club members
6:30 – 11     Breakfast              Begin Serving @ 7:00
                    Chair – Glenn Pulliam             Mike Crump                                                Daryle Polk                              Larry Bradley                                              Mark Brusie        
6:30 – 4:00  Parking
                    Chair – Ravi Saip                     6 DRPD employees
                    Club Helpers???                               
                    6 Interact Club   7-11              6 Interact Club 10:30- 2:30
6:30 – 8:30  Craft Fair
                    Chair – Kristen Cargile
Eric Hoiland         Jessica Thorpe     Jen Liu
2 Exchange Club members               
7 – 3            Condiment Table
                    Chair – Phil Price                    Jessica Thorpe (Floater)
                    Cindy Price                               Dave Jessen
                    2 Interact  8-11                         2 Interact 10:30-2:00
10 - 3           Entrance – Sherrif's Posse
                                                                                          Draft 8/31/21
7 – 3           Cashiers                                   
                    Chair – Steve Plume                Kristen Cargile
                    Kathy  Maxwell             
8 – 4            Ducky Derby Tickets  ??????
Larry / Colleen DHS Cheerleaders/Sober Grad Night 10 – 2
8-4               Announcing – Mary Sakuma
                    Jessica Thorpe (Floater)
11-4             Beer Booth
                    Bruce, Sue, Mitch Miller – Sierra Nevada booth
Jen Liu & Roland – Mulberry Station booth
Beer Booth Ticket sales -  
Sue Jessen           Kelly Lotti            Jen Liu (part time)
9-4               Remote Soda Booth       Jon Patterson
                              Boy Scouts            Jen Liu / Steve Heithecker      
11-3             Drink Tubs – Lunch
                    4-Interact             Jen Liu / Dave Jessen    
11:30-3       Lunch                   Begin serving @ 11:30
Chair – Larry Bradley           
Glenn Pulliam                          Steve Heithecker
Bonnie Pulliam                         Tammy Goss
Mike Crump                            John Bohannon   
2 Boy Scouts
<![if !supportLists]>8-4 <![endif]>Tri-tip, Cole Slaw
Roy Ellis                                   Barbara Ellis                 
Steve Abshier                           Chad Abshier      
Jackie Goss                               Valerie Goss                            
3 –5             Clean-up – ALL MEMBERS
                    4- Interact
Draft 8/31/21
Harvest Festival Setup
Saturday, September 18, 2021
ALL MEMBERS MEET AT STORAGE UNIT AT 8:30 am
3:00             -Pick up Beer at Sierra Nevada and deliver to Pro Pacific
                    Glenn Pulliam (Friday)
                    -Pick up beer at Mulberry Station – Jen/Glenn
-Pick up Parking Supplies at Rental Guys – Larry Bradley  (Friday)
-Pick up Order at Costco – Larry Bradley, Jen Liu, Glenn Pulliam      (ice, drinks, hot dogs) (Sat)
8:30             Pick up Storage Shed Items ALL AVAILABLE MEMBERS
Miller Glass Trailer- locked for storage at Park
9-11             Parking Lot Layout – Ravi Saip
                    Steve Heithecker            Dave Jessen                            
4 Interact                        6 DRPD employees
                    Buy new parking directional signs
9- 11            Pop up Tents set-up    ALL AVAILABLE MEMBERS
11:30

          

Craft Fair Layout – Eric

Hoiland
         

         

Kristen Cargile

    

JenLiu

 

       

Jessica Thorpe

      

3-4 Interact
9-12             Hang Banners - Roy Ellis
                    Mike Crump                            Daryle Polk         
Bruce Norlie                             4 Interact   
Food Pick Up – deliver to park         Phil Price- Hot dog buns
Steve Heithecker- Spiteri's (Tri-tip, salad dressing, pans)         
STORE AND LOCK ALL FOOD AND DRINK ITEMS IN REFRIGERATED TRUCK