Rotary International Theme 2021-2022

THE ROWEL

Rotary Club of Durham


Rotary International President:

Shekhar Mehta

Rotary District 5160 Governor:

Kathy Suvia

Durham Rotary President: Eric Hoiland

_____________

Editor: Phil Price

Publisher:† Jen Liu

March 15, 2022

The 2022 Harvest Festival scheduled for Sunday, September 18, 2022.

<![if !supportMisalignedColumns]>
<![endif]>
2022 Calendar for Durham Rotary

M
a
r
c
h

1
Meeting
MRIdian Linear Accelerator at the Enloe Hospital
(Robert Olea)
2
3
4
5
6
7

8
No Meeting

9
10
11
12
13
14
15
Meeting
Kamie Loeser, Butte County Director of Water and Resource Conservation
(Mike Crump)
16
17
18
19
20
21
22
No Meeting
23
24
25
26
27
28
29
Meeting
TBA
(Jessica Thorpe)
30
31

A
p
r
i
l

1
2
3
4
5
No Meeting
6
7
8
9
10
11
12
Meeting
TBA
(Jim Patterson)
13
14
15
16
17
18
19
No Meeting
20
21
22
23
Rise Against Hunger Food Packaging Event at Durham Elementary School
24
25
26
Meeting
Larry Smith on Wine Making at Home
(Jen Liu)
27
28
29
30
The Meeting

Opening

The meeting was called to order by President Eric Hoiland, at the Butte Creek Country Club.

The Durham Scout Troup 16 led us in the pledge.

Following that, he asked Jim Patterson to give the invocation, which he did.† Then, in the absence of Larry Bradley (the only member who can sing), we had no song. †
FUTURE MEETINGS: Meetings will be at the Butte Creek Country Club, at 6:00 pm, unless otherwise noted.
March 29th:† Jessica Thorpe.
April 12th:†† Jim Patterson-Needful Things
April 23rd:† Rise Against Hunger at Durham HS
April 26th: Jen Liu
- Presents Larry Smith on Wine Making at Home
May 10th: Daryl Polk
May 24th: John Bohanon
June 7th:† Roy Ellis
June 21st:† Bruce Miller
President Eric reported that the Camp Royal interviews has occurred and two girls and two boys have been selected to attend.† One alternate was also selected.
Mike Wacker and Jessica Thorpe will meet on Wednesday to interview candidates for Camp Venture.† Peggi Wittman will be assisting.
The memorial service for Jim Kirks, which had to be cancelled due to covid in the church, has been reset for May 14, 2022 in the Faith Lutheran Church, 667 E. First Avenue, Chico.† (Unfortunately, I will not be home from Mexico until the following day).
Rise Against Hunger
This yearís Rise Against Hunger food packaging is scheduled for April 23rd.† It will begin at 8:30 am and should conclude by noon.† I assume that it will be at the same location as last year, but I havenít received the official word yet.
Introduction of Visitors.
Mike Crump introduced Kamie Loeser, Butte County Director of Water and Resource Conservation, who will be his program tonight.
Steve Heithecker introduced Student of the Month, Joshua Mendoza, and his father Louie Mendoza.
Peggi Wittman introduced her fiancť, Harrold Koehler, and Sharon Robertson.
The six Scouts introduced themselves.† They then made a presentation seeking funds to attend a Scout summer camp on Catalina Island.† (I remember my Boy Scout troop camping in the snow at Inskip).
Membership
Bring guests who you think you can interest in becoming a member.† Think of business owners or managers to bring.† Your dinner and your guestís dinner will be paid for by the Club.† Also, bring a guest to one of our occasional social gatherings in the Durham Park or a Pizza place (Monday Night Football).
The Rotary Foundation Donations
You can make a difference in this world by helping people in need. Your gift can do some great things, from supplying filters that clean peopleís drinking water to empowering local entrepreneurs to grow through business development training.

The Rotary Foundation will use your gift to fund the life-changing work of Rotary members who provide sustainable solutions to their communitiesí most pressing needs. But we need help from people like you who will take action and give the gift of Rotary to make these projects possible.
When every Rotarian gives every year, no challenge is too great for us to make a difference. The minimum gift to The Rotary Foundation is $25.00. An annual $100.00 gift is a sustaining member. Once your donations accumulate to $1,000 you become a Paul Harris Fellow.
It is possible to learn more about The Rotary Foundation on the Rotary web site.
Your gift can be made online or by sending Jessica Thorpe a check made out to The Rotary Foundation to Durham Rotary, P.O. Box 383, Durham, California 95958.
Students of the Month
We had the Student of the Month for February.† He was Joshua Mendoza.
The next meeting is March 29th.† Jessica Thorpe will present the program although what it will be has not yet been reported to me.
Recognitions

None tonight.
The Program
Mike Crump introduced Kamie Loeser, Butte County Director of Water and Resource Conservation.† After Jen got her slide presentation working, she spoke about water, drought, conservation, ground water recharging and many other things about water.† She talked about the Sustainable Ground Act which requires attaining sustainability withing 20 years. †She talked about the three water sub-basin in Butte County, which are the Butte Sub-Basis, the Vina Sub-Basis and the Wyandotte Sub-Basin.
Must Be Present to Win Drawing:
Bruce Miller was not present to win the drawing of that name.† He didnít get $10.
†
Conclusion
President Eric Hoiland then closed the meeting.
_____________________________________________________________________________
From the District
From Kathy Suvia:
The District Governor is now sending her messages by video, which I cannot include in the Rowel.† However, she did forward the following message:
Text from TRF email:

As one of the worldís largest humanitarian organizations, Rotary has made peace the cornerstone of our global mission. We are deeply concerned about the Ukraine crisis and need your help.

Rotary is made up of people of action, especially in difficult times. In response to the deepening refugee crisis, The Rotary Foundation Trustees have decided to prioritize contributions made to the Disaster Response Fund until 30 April 2022 to support disaster response grants for districts affected by these events. These expedited disaster response grants can be used to supply water, food, medicine, shelter, and clothing.

Half a million people have fled Ukraine and are in dire need of emergency aid. The United Nations estimates that number of refugees could grow to as many as 5 million people displaced. Rotary clubs in Europe and around the world have stepped up their relief work, some working on the ground to help displaced families.

With your donation to our Disaster Response Fund, we can support communities and help rebuild lives during this tragic time. Click HERE to donate now.

Sincerely,

John Germ
Trustee Chair, 2021-22
The Rotary Foundation

Kathy Suvia
District Governor 2021-22
Rotary International District 5160
530-859-1422
KathyS@Rotary5160.org

Please Mark Your Calendars
<![if !supportLists]>∑ <![endif]>April 23, 2022 Spring Assembly & Board-Elect Training (Redding): Help your PE to promote this valuable event.
<![if !supportLists]>∑ <![endif]>May 7, 2022 Spring Assembly & Board-Elect Training (Fairfield): Help your PE to promote this valuable event.
<![if !supportLists]>∑ <![endif]>June 4-8, 2022 Rotary International Convention: Houston, TX
<![if !supportLists]>∑ <![endif]>July 16, 2022 District Awards & Installation Celebration: Rolling Hills Casino, Corning. Itís a Western Round-up of fun and fellowship.
From Rotary International
None Tonight
______________________________________________________________________________
Instead of news from Rotary International, below is the Rowel from March13, 1995 (27 years ago).† I had been doing the Rowel since July 1994. Don Bowlby was the Club President (and the one responsible for talking me in to doing the Rowel, just for his year as President† (ha, ha!).† In those days it was copied on a page with a heading and mailed out to members.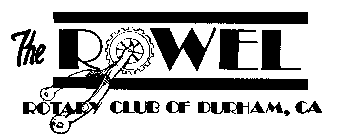 Rotary International President: Bill Huntley††††††††††††††††††††††††† District Governor: Lou Gerard
March 13, 1995
NOTICES:†
The 37th annual District Conference for District 5160 will be held at the Redding Convention Center and the Red Lion Inn in Redding, California on April 27th through 29th.†† See President Don about car-pooling up to the conference.
From Jim Patterson:
Services were held Saturday, March 11, 1995 for Bobbi Meighan, wife of Ray Meighan, a member of this club for many years.† Bobbi was born September 26, 1927, and died Wednesday, March 8, 1995, at home.
Bobbi was a Paul Harris Fellow from 1984.† She was her husband Ray's Rotary Ann helpmate in his years of distinguished Rotary service.
Ray is a Past President of Durham Rotary (1987-88), Benicia Rotary (1975-76), and presently a member of Prescott Valley (Arizona).† In Durham, Ray was responsible for Katie Berger's receiving a Rotary Foundation Scholarship, and therefore, for other subsequent successful applications.† As a director of service areas, Ray always led us to new heights.† In his year as President, $11,000 was raised for Polio Plus, and $11,000 for the Memorial Hall project. Ray and Bobbi gave 125% to Rotary, and their influence survives them.† Our sympathy and prayers go out to these dear and special friends.
[Addresses deleted]
LAST MEETING:†
The† March 13th meeting was opened by President Don, who promptly lost his bell and then later his gavel.† Flag Salute was led by Joe Nock and the Invocation was by Steve Bertagna.†
Introductions:
Dan Hutfless, Joe Stricker, Bill Apger, and Al Lotspeich were selected to introduce the visiting Rotarians at their tables.† Those introduced were Ric Landis of the Paradise club and Jack Van Rossum, Joe Masselli, Charles Priddy and Steve Pierra of the Chico club.†
Program:
Was Mike McDonald, a local farmer and member of the Durham School Board talking on the Computers for Schools Programs which will expire March 31st.† If you have an old computer that you do not use anymore and it is in working order with a working hard drive, contact him.
From The Rotary International News Basket:
"OBJECT OF ROTARY" TO BECOME GENDER-NEUTRAL JULY 1
†
One of the last vestiges of Rotary's "for males only" history is† expected to disappear on July 1 when proposed changes to the "Object of† Rotary" take effect.
Rotary International opened membership in its clubs to women in 1989,† following court rulings against gender restrictions in the United States† and Canada a few years earlier.† Despite that opening to women members,† however, two pesky pronouns remained in one of the organization's most† important statements -- the Object of Rotary.
The historic statement, first adopted as five "objects" by the† international association at its 1912 Convention, underwent numerous† revisions before assuming its present form in 1951.† At the convention† that year, the document was streamlined into one Object with four† elements which parallel Rotary's four Avenues of Service -- club,† vocational, community and international.† In two of the four clauses the† word "his" appears.†
That pronoun, many Rotarians believed, is† inappropriate for an organization that includes both men and women.†
The 1995 Council on Legislation agreed.† Meeting in Caracas, Venezuela,† early this year, the council voted to amend the Object to substitute new† wording that eliminates the masculine pronouns.† The action came on a† two-thirds vote since it amended a part of the RI and Rotary club† constitutions.
As with all other items adopted by the council, clubs will have the† opportunity to oppose the change in the Object of Rotary.† They will† have until June 13 to do so.† If opposed by a sufficient number of† clubs, the action would be reviewed by the RI Convention in Nice,† France.
†
Missed meetings: Dan Hutfless paid $35.00 for 3-4 missed meetings.† Joe Stricker paid $10.00† for a missed meeting.† Hothem, Price and Lotspeich paid $5.00 each for being late.
Drawings:
Jim Piluso won the Raffle and Lindy Robinson did not win the Must Be Present To Win. He wasn't.
The Rotary International web site is: www.rotary.org
District 5160 is: www.rotary5160.org
The Durham Rotary Club site is: www.durhamrotary.org
The Rowel Editor may be contacted at: pbprice1784@gmail.com
The deadline for the Rowel 6:30 am on Wednesdays.
The Editorís photographs published in the Rowel are available, upon request, in their original file size. Those published were substantially reduced in file size.