2022 Calendar for Durham Rotary

S
e
p
t
e
m
b
e
r

1
2
3
4
5
6
No Meeting
7
8
9
10
11
12
13
Meeting
Harvest Festival Planning at Durham Park
14
15
16
17
Durham Harvest Festival Set Up at Durham Park
18
Harvest Festival at Durham Park
19
20
No Meeting
21
22
23
24
25
26
27
Meeting at Durham Memorial Hall
28
29
30
O
c
t
o
b
e
r
1
2
3
4
No Meeting
5
6
7
8
9
10
11
Meeting
Camp Royal Students
at Durham Memorial Hall
(Larry Bradley)
12
13
14
15
16
17

18
No Meeting

19
20
21
22
23
24
25
Meeting
Tour of Airspray
(Ravi Saip)
26
27
28
29
30
31
The Meeting Opening

The meeting was called to order by President Eric Hoiland.  I am not sure why he was scratching his head.  Maybe it was because the meeting was being held at the Durham Memorial Hall (see photo below).   

He asked Steve Heithecker to lead the pledge, which he did.  He then asked Jim Patterson to present the invocation, which he did.   Larry Bradley then led us in singing "America".
FUTURE MEETINGS: Meetings will be at the location noted, at 6:00 pm.
October 11th: Larry Bradley will present Camp Royal students at Durham Memorial Hall.
October 25th:  Ravi Saip will present the program at Airspray
November 8th:  Mike Wacker.  Location undetermined.
November 28th or  29th:  Location undetermined, but may be Monday Night Football. Stay tuned.
December 6th:  Holiday Party at BCCC.
Dinner was catered by April from the Chatter Box.
Announcements
It was again (for Steve Plume) announced that the Crab Feed will be on January 21, 2023.
The Orland Club will be celebrating their 75th anniversary with a lunch and program by Mike Wolcoitt, Editor of the Chico Enterprise Record.  See the flyer at the end of the Rowel.
It was noted that about 8 of the checks we issued to Paradise teachers for Camp Fire relief were never cashed.  The teachers had apparently left the area and had no use for the money in Paradise schools.  We apparently have about $3,600 left in the fund.  It is proposed that we stop payment on the uncashed checks and that we issue new checks.  At this point your editor got confused, because if 8 checks were for $3,600 then the checks were for $450, which is not what I recall.  And they were talking about 6 new checks, which would be $600 each.  Anyway, your editor has asked for clarification but has not received it in time for this Rowel to go to press.
Next Meeting
The next meetings will be as follows:
On October 11th Larry Bradley will present the Camp Royal Students.  He will also bring the September Student of the month.  The meeting will again be at Durham Memorial Hall.
On October 25, Ravi will present the program.  It will be at Airspray, 77 Piper Ave, Chico Airport.
Recognitions

Steve Plume contributed $78 for his 78th birthday and a song by Jen Liu.  He also contributed $30 for his confusion about the announcement of the Crab Feed Date.
Larry Bradley contributed the usual $10 for his birthday and a song by Ravi.
Steve Heithecker contributed $21 for his 21st anniversary.
Jen Liu contributed $58 for the breakfast sausages he acquired at the end of the Harvest Festival so he could become a Double Bell Ringer.
Daryl Polk contributed $10 for his birthday, which preceded his brother's by a few minutes.  He use to contribute the $10 for his brother's birthday.
Introduction of Visitors.
Introduced were Donn Thomson, President of Paradise Rotary, and his wife, Gerri. They were here for the purpose of delivering Paradise Rotary's $500 contribution to our Harvest Festival.  It should also be noted that several Paradise Rotary members helped us at the Harvest Festival.  There was some discussion about what the contribution would be used for.  It was finally agreed that it would go for our current District Grant application.
Tonight's Meeting Program
Tonight's meeting was a debrief of Harvest Festival.  There was a discussion of the effect of the rain on the festival.
Jessica had provided us with a preliminary fiscal report.  It was missing the charge by the Sheriff's Department for the Captain Bob, which we have not received yet.  After figuring in an estimate of what that will be, essentially, we made about $8,000 less than last year.  But we have enough for our scholarships this year.
A number of things were discussed, such as the number of Interact Students.  We probably had to many.  Parking went well this year.  We do need feedback from the vendors and the car show people.  The donated hot dogs and buns were not very good and we will seek another source next year.  The improved signs were discussed, including the two on highway 99 that disappeared (apparently there was road work being done in the area).  Also, the cost of stakes.
Membership
Bring guests who you think you can interest in becoming a member.  Think of business owners or managers to bring.  Your dinner and your guest's dinner will be paid for by the Club.  Also, bring a guest to one of our occasional social gatherings in the Durham Park or a Pizza place (Monday Night Football).
Go to the following Rotary International web site for information on membership development:  https://my.rotary.org/en/learning-reference/learn-topic/membership .  From this website there is access to membership development and other related information
The Rotary Foundation Donations
You can make a difference in this world by helping people in need. Your gift can do some great things, from supplying filters that clean people's drinking water to empowering local entrepreneurs to grow through business development training.
The Rotary Foundation will use your gift to fund the life-changing work of Rotary members who provide sustainable solutions to their communities' most pressing needs. But we need help from people like you who will take action and give the gift of Rotary to make these projects possible.
When every Rotarian gives every year, no challenge is too great for us to make a difference. The minimum gift to The Rotary Foundation is $25.00. An annual $100.00 gift is a sustaining member. Once your donations accumulate to $1,000 you become a Paul Harris Fellow.
It is possible to learn more about The Rotary Foundation on the Rotary web site.
Your gift can be made online or by sending Jessica Thorpe a check made out to The Rotary Foundation to Durham Rotary, P.O. Box 383, Durham, California 95958.
Conclusion
Eric then closed the meeting.
___________________________________________________________________________
From the Orland Club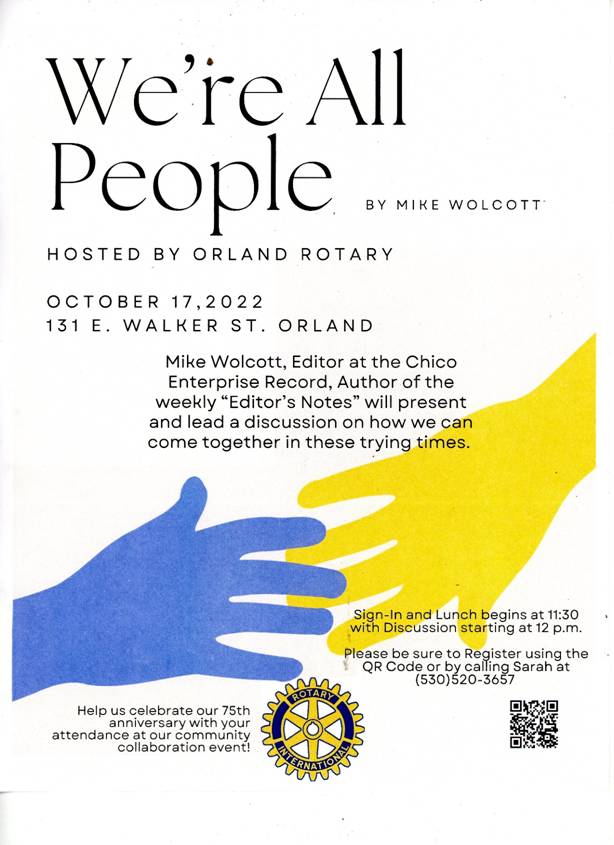 <![if !supportLineBreakNewLine]>
<![endif]>
From the District

The 2022-23 Monterey District Conference - World Premiere Event: The Power of Rotary October 28 - 30, 2022, at the Monterey Marriot:

Register by June 1, 2022 to secure your space to the "WORLD PREMIERE EVENT – THE POWER OF ROTARY" - October 28-30, 2022 - for only $199. After that? The price changes to $225 per person. Then soon it's $250 per person…
There's more! You can NOW register for
Golf on Thursday, October 27th at the Del Monte Golf Course for only $140 (includes lunch). A Hollywoodesque-soiree on Friday evening, October 28th for $25 at the stunning Marriott Ferrante Bay View venue (dancing, dessert, open bar and stars galore; space limited).
The Rotary International web site is: www.rotary.org
District 5160 is: www.rotary5160.org
The Durham Rotary Club site is: www.durhamrotary.org
The Rowel Editor may be contacted at: pbprice1784@gmail.com
The deadline for the Rowel 6:30 am on Wednesdays.
The Editor's photographs published in the Rowel are available, upon request, in their original file size. Those published were substantially reduced in file size.