2022 Calendar for Durham Rotary

O
c
t
o
b
e
r

1
2
3
4
No Meeting
5
6
7
8
9
10
11
Meeting
Camp Royal Students
at Durham Memorial Hall
(Larry Bradley)
12
13
14
15
16
17

18
No Meeting

19
20
21
22
23
24
25
Meeting
Tour of Airspray
(Ravi Saip)
26
27
28
29
30
31
N
o
v
e
m
b
e
r
1
No Meeting
2
3
4
5
6
7
8
Meeting
TBA
(Mike Wacker)
9
10
11
12
13
14
15
No Meeting
16
17
18
19
20
21

22
No Meeting

23
24
25
26
27
28
29
Meeting
TBA
30
27
28
29
The Meeting Opening

Meeting was Called to Order by President Eric Hoiland at 6:15pm

Pledge of Allegiance

– Mike Wacker

Invocation/Prayer

– Pastor Jim Patterson

Patriotic Song

~ God Bless America – Larry Bradley
FUTURE MEETINGS: Meetings will be at the location noted, at 6:00 pm.
October 25th:  Ravi Saip will present the program at Airspray
November 8th:  Mike Wacker.  Location undetermined.
November 28th or  29th:  Location undetermined, but may be Monday Night Football. Stay tuned.
December 6th:  Holiday Party at BCCC.
December 14th:   Bruce Norlie.  Location undetermined. 
Members in Attendance:
Eric Hoiland, Peggi Koehler, Larry Bradley, Kristen Cargile, Steve Plume, Dave Jessen, Mike Wacker, Jim Patterson, Ravi Saip
Guests:
Carl Ochsner
– Visiting Rotarian from Chico Sunrise Club
Marissa Guerra
and her two sons,
Zach and Joseph
, from the Durham Parkview 4H Club
Diane Arce
– Student of the Month, DHS, for September 2022, as well as one of our 2022
Camp Royal
attendee
Lulu Olucra – Diane's Mother
Maggie Mendoza
– DHS Staff Member and Bilingual Liasion
Alicia Tejeda
– Durham Unified School District Staff; Mentor for Diane
Announcements
The Orland Club will be celebrating their 75th anniversary with a lunch and program by Mike Wolcoitt, Editor of the Chico Enterprise Record.  See the flyer at the end of the Rowel.
Kristen received information from Jessica Thorpe about the following:
1) Durham High School 'Grad Night' has requested a donation from our club; $1,500 we typically contribute. Deadline is 1/31/2023

2) FFA National Convention Trip is scheduled for October 27-30, 2023. 10 students typically attend. Larry shared last year we contributed $1,000, and that amount
currently reflects in our annual budget. Kristen shared the total cost for FFA is $20,400 for all fees for the 10 students. The students have proposed to attend every other year.

Discussion ensued. Ravi motioned to donate $750 for FFA this year. Steve Plume second. Motion carried

3) Kristen suggested we discuss the Safe and Sober Event at our next meeting

4) A Crab Feed Committee Meeting needs to be scheduled as the planning should get started now
Eric shared we'll do a Board Meeting prior to our 'field trip' to Airspray Hangar at Chico Airport at 5:00pm, Tuesday, October 25, 2022
After all attendees were close to finishing their meals catered by Pueblitos in Durham, Eric asked if we could start off the meeting hearing from Zach and Joseph from the Durham 4H Club. The two boys shared information about the Giving Tree Project as a community-based program to help replace old and fallen tress throughout the Durham Community Park and other Durham Recreation and Park District parks. Many trees have been lost in the last year and this project is a means to help replant new trees. With a donation, a plaque will be displayed with the contributors' name(s). The Giving Tree Project tiers' classifications are:
$25 Donation – Seedling
$50 Donation – Sprout
$100 Donation – Branch
$500 Donation – Crown
$1,000 Donation – Grove
Steve Plume gave a cash donation. If others are interested in making a contribution, the link is below:
https://durhamrecreation.recdesk.com/Community/Program/Detail?programId=654


Any questions, please ask Peggi Koehler or Kristen Cargile. We both have forms with additional information.
Crab Feed Date: Saturday, January 21, 2023. Save the Date.
Side note: Board Meeting will take place prior to the evening's events at 5:00pm.
Eric shared Orland Rotary is putting on a Luncheon on Monday, October 17, 2022. It begins at 11:30am. If you have questions, please contact Eric. Eric and Steve Heithecker are planning to attend.
World Polio Day is October 24, 2022. Eric will email a link for financial contributions.
A small
bidding war
occurred where Mike Wacker is now the recipient of the
B.S
.
Recognition.
Next Meeting
The next meeting will be on October 25th.  Ravi will present the program.  It will be presented at Airspray, 77 Piper Ave, Chico Airport.
Tonight's Meeting Program
Durham High School Senior, Diane Arce, is our September Student of the Month. Larry Bradley shared all of the fantastic attributes and qualifications of Miss Diane, reinforcing why she was chosen. Diane also was one of our selected students to attend Camp Royal in July 2022 (typically the camp takes place in June; it was delayed this year). Miss Arce is a stellar student academically and also excels in leadership and service-oriented roles within various campus organizations. Her college education plans are to stay within the U.C. system but hasn't decided where. Diane spoke about her experience at Camp Royal, starting the week nervous and shy, but of course became more confident and relaxed as time went on. She enjoyed the comraderie and learning more about herself, as the camp activities encouraged the students to 'take risks'. Diane shared the second day of camp all the students had to relinquish their cell phones, which she believed forced the kids to successfully focus on the tasks at hand, to 'be in the moment'. Diane felt the bonds she formed with other students was her favorite part.
In attendance were Maggie Mendoza and Alicia Tejeda, both staff members with Durham Unified School District. These two ladies have known Diane since she first arrived to Durham as a young student, speaking limited English and very introverted and shy. They have been instrumental is guiding Diane into the young woman she is today. Maggie shared how Diane has transformed into a fluent-English speaking young lady, and quite articulate, and Aliciaagreed. Maggie acted as a Spanish-speaking translator for Diane's Mom, Lulu. Lulu praised both ladies for all of their help and guidance for her daughter, and also how happy she is with the Durham school system. Lulu thanked our Rotary Club for our support, too. There were very tender and stirring moments as Mom Lulu and the mentoring women from the school systempraised Diane.
Recognition

Grinder for the month of October, possibly into November… Mike Wacker won the $65 bid.
Membership
Bring guests who you think you can interest in becoming a member.  Think of business owners or managers to bring.  Your dinner and your guest's dinner will be paid for by the Club.  Also, bring a guest to one of our occasional social gatherings in the Durham Park or a Pizza place (Monday Night Football).
Go to the following Rotary International web site for information on membership development:  https://my.rotary.org/en/learning-reference/learn-topic/membership .  From this website there is access to membership development and other related information
The Rotary Foundation Donations
You can make a difference in this world by helping people in need. Your gift can do some great things, from supplying filters that clean people's drinking water to empowering local entrepreneurs to grow through business development training.
The Rotary Foundation will use your gift to fund the life-changing work of Rotary members who provide sustainable solutions to their communities' most pressing needs. But we need help from people like you who will take action and give the gift of Rotary to make these projects possible.
When every Rotarian gives every year, no challenge is too great for us to make a difference. The minimum gift to The Rotary Foundation is $25.00. An annual $100.00 gift is a sustaining member. Once your donations accumulate to $1,000 you become a Paul Harris Fellow.
It is possible to learn more about The Rotary Foundation on the Rotary web site.
Your gift can be made online or by sending Jessica Thorpe a check made out to The Rotary Foundation to Durham Rotary, P.O. Box 383, Durham, California 95958.
Must Be Present to Win Drawing:
Ravi drew Jessica Thrope's name.  She was/was not present to win.
Conclusion
Eric then closed the meeting.
___________________________________________________________________________
From the Orland Club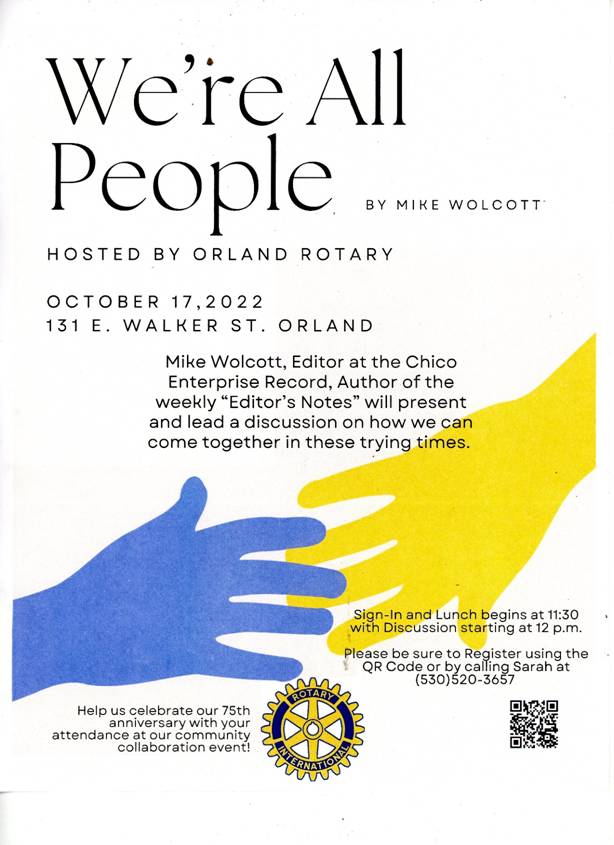 From the District

The 2022-23 Monterey District Conference - World Premiere Event: The Power of Rotary October 28 - 30, 2022, at the Monterey Marriot:

Register by June 1, 2022 to secure your space to the "WORLD PREMIERE EVENT – THE POWER OF ROTARY" - October 28-30, 2022 - for only $199. After that? The price changes to $225 per person. Then soon it's $250 per person…
There's more! You can NOW register for
Golf on Thursday, October 27th at the Del Monte Golf Course for only $140 (includes lunch). A Hollywoodesque-soiree on Friday evening, October 28th for $25 at the stunning Marriott Ferrante Bay View venue (dancing, dessert, open bar and stars galore; space limited).
---
From Rotary International

---
Re-emergence of polio underscores the need for eradication
By Arnold R. Grahl
The detection of poliovirus, and even cases of polio, in places where it hasn't been found for years has demonstrated once again that eradicating a human disease isn't easy, especially in the final stages.
In recent months, an unvaccinated man in the United States was paralyzed. In the UK, poliovirus was detected in sewage. In Malawi, a child contracted polio. And Mozambique announced its first polio outbreak in 30 years.
But rather than be discouraged, Rotary and its partners in the Global Polio Eradication Initiative (GPEI) remain confident that they are making progress and can achieve their goal of a polio-free world. There are several reasons for this optimism.
A new oral vaccine, which has a substantially lower risk of causing vaccine-derived variant polio, is now available. This makes it less likely that the weakened strain of poliovirus that is used in the vaccine will mutate and spur outbreaks in communities where immunization levels are low, which has occurred in Africa, Asia, and the Middle East.
Moreover, the number of cases of the disease caused by the wild virus has been at historically low levels in Pakistan and Afghanistan, the two countries where poliovirus transmission has never been stopped. This presents an opportunity to seize the moment and stop the wild virus forever.
Rotary's perseverance has played an enormous role in bringing the world to this point. It's that commitment, coupled with the determination of the other GPEI partners, that is needed to complete the job.
"This year has shown us why we must stay the course on polio eradication," said Mike McGovern, chair of Rotary's PolioPlus Committee. "We have an opportunity to make history and need Rotarians to redouble their commitment by raising funds and awareness."
Rotary members have been at the center of the worldwide effort to eradicate polio for more than three decades. Rotary launched PolioPlus in 1985 and helped found the GPEI in 1988, with the goal of eradicating a human disease for only the second time in history. (The World Health Organization declared the world free of smallpox in 1980.) When the GPEI was founded, wild poliovirus paralyzed hundreds of children every day, with an estimated 350,000 polio cases across more than 125 countries in one year. Since then, cases have plummeted more than 99.9%, sparing more than 20 million people from paralysis.
Through a funding partnership with the Bill & Melinda Gates Foundation, Rotary commits US$150 million to fighting polio every year. Rotary members have contributed more than US$2.6 billion and countless volunteer hours to this effort. With the GPEI partners, members engage with communities everywhere to encourage high vaccination rates and help immunize more than 400 million children annually.
As the world gets closer to having zero polio cases that are caused by the wild virus, public health experts say it is more important to track all forms of the virus, wherever they may appear, including in polio-free regions.
They also say that the re-emergence of polio in these places highlights the importance of vaccination as the only form of protection against polio and many other diseases. It draws attention to the work needed to encourage people to get vaccinated at a time when vaccination rates are dropping in some communities. And it reinforces the fact that polio anywhere is a threat everywhere, which underscores the importance of the End Polio Now campaign.
As World Polio Day on 24 October approaches, Rotary urges its members to tell their communities about the importance of vaccination. Global donors and national governments are also expected to announce new pledges to fund the GPEI's 2022-26 polio eradication strategy. This strategy focuses on greater accountability from national governments about their work to eradicate wild polio and end outbreaks of polio caused by variant poliovirus.
With these kinds of sustained political and financial commitments, the world is still on the path toward an incredible accomplishment: making sure no person is paralyzed by polio ever again.
— 21 September 2022
The Rotary International web site is: www.rotary.org
District 5160 is: www.rotary5160.org
The Durham Rotary Club site is: www.durhamrotary.org
The Rowel Editor may be contacted at: pbprice1784@gmail.com
The deadline for the Rowel 6:30 am on Wednesdays.
The Editor's photographs published in the Rowel are available, upon request, in their original file size. Those published were substantially reduced in file size.